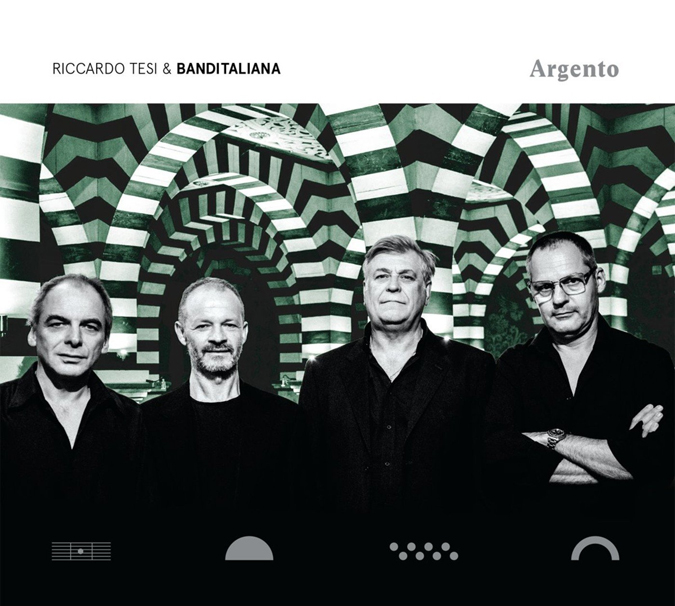 Riccardo Tesi & Banditaliana – Argento (Visage Music, 2018)
Riccardo Tesi & Banditaliana is one of the leading world music ensembles in Italy. Tesi and his colleagues combine Italian traditional music with Mediterranean influences, progressive jazz elements and even blues.
On Argento, the award-winning band celebrates its 25th anniversary with new material as well recreations of previously released musical pieces, including a moving tribute to the memorable Italian singer-songwriter Gianmaria Testa, who passed away in 2016. In addition to Tesi, percussionist Gigi Biolcati has emerged as one of the prominent composers in Banditaliana.
Although the core ensemble consists of four musicians on accordion, guitar, saxophone and percussion/vocals, three bassists, various percussionists and additional guests appear on Argento.
High profile guests include acclaimed jazz trumpeter Paolo Fresu; progressive rock multi-instrumentalist Mauro Pagani (Premiata Forneria Marconi) on bouzouki; pianist Francesco Magnelli; Spanish Basque accordionist Kepa Junkera (who plays the percussive chalaparta in this case); and the fabulous female voices of "Bella Ciao": Elena Ledda, Lucilla Galeazzi, Ginevra Di Marco and Luisa Cottifogli. The three bass players are Silvano Lobina, Nicola Vernuccio and Mirco Capecchi. The album also features Andrea Piccioni on Middle Eastern and North African percussion and vibraphonist Ettore Bonafé.
Riccardo Tesi & Banditaliana includes Riccardo Tesi on accordion; Maurizio Geri on guitar, saz, chitarra battente (southern Italian folk guitar) and lead vocals; Claudio Carboni on soprano, bartitone and alto saxophones; and Gigi Biolcati oo percussion, lead vocals and a new device called GGtarra
Argento is a captivating and masterfully-crafted album by some of the most talented instrumentalists in the Italian folk and world music scene.