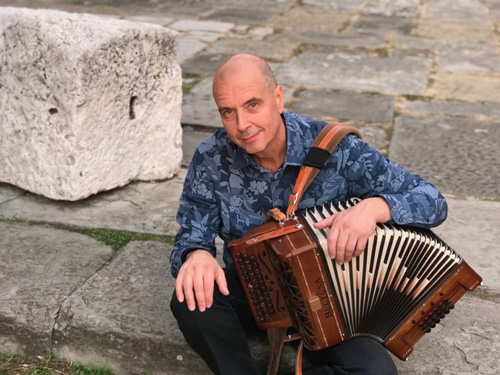 Markku Lepistö, from southern Ostrobothnia, is one of Finland's most dynamic accordionists, having been playing folk and dance music since age five.
A graduate of the Sibelius Academy Folk Music Department, where he studied kantele, woodwinds, double bass and fiddle, Markku was a member of the now defunct ensemble Pirnales, has played with the group Progmatics, more recently in a duo with Aldargaz mandolinist Petri Hakala and in the klezmer group Doina Klezmer. Markku joined Värttinä just before the Vihma recordings.
In 2011, Lepistö released an album titled Accordion Samurai along with four other accordion colleagues: Riccardo Tesi (Italy), Bruno Le Tron (France), Didier Laloy (Belgium) and David Munnelly (Ireland).
A follow-up Samurai album titled Te featured David Munnelly; Riccardo Tesi (Italy), Simone Bottasso (Italy) and Kepa Junkera (Spain).
Discography:
Silta (Aito Records, 2002)
Polku (2006)
Tupasoitto (2009)
Accordion Samurai (Homerecords, 2011)
Samurai Accordion – Te (Visage Music, 2017)