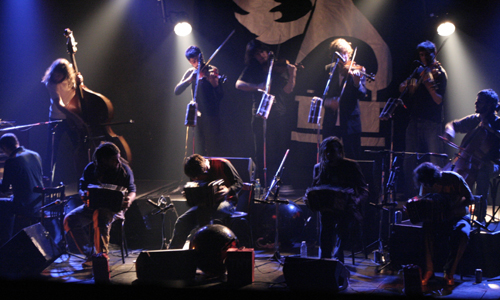 With the structure of a typical tango orchestra (four bandoneons, three violins, alto, violoncello, double bass and piano), a singer, a sound that has a lot in common with Osvaldo Pugliese Orchestra and a spirit associated with the rock culture, the Orquesta Tipica Fernandez Fierro is making its own way with new arrangements of traditional tangos and their own compositions.
Working as a cooperative they have recorded and released several CDs and have opened their own place in Buenos Aires called Club Atletico Fernandez Fierro where they play and organize a milongas and concerts.
Fernandez Fierro's shows are an original mix that captivates not only old tango fans and dancers but also new generations getting into contact with tango music for the first time.
Vivo en Europa is described with humor by them as the "official-pirate cd of la Fernandez Fierro" since it was recorded live during one of their concerts in the European tour 2005.
"We realized that the recording wasn't meant to be distributed but, the energy that the orchestra displayed during this concert is something difficult to re-produce in a Studio… this is the energy of Fernandez Fierro live…" says Pablo Jivo.
Discography
* Envasado en Origen (2002)
* Destruccion masiva (2003)
* Vivo en Europa (2004)
* Mucha mierda (2006)
* Fernández Fierro (2009)
* Tics (2012)
* En vivo (2014)
Web Site http://www.fernandezfierro.com