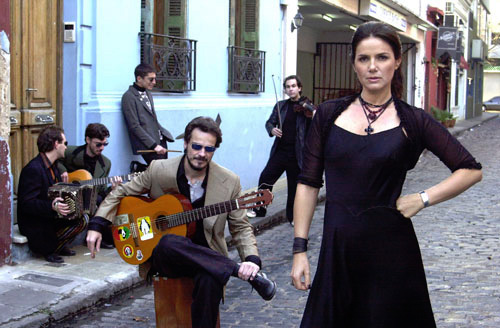 La Chicana was formed in the first months of 1996 by Dolores Solá, Acho Estol and Juan Valverde with the clear intention of producing tango music with a rougher edge. They favor the 'canyengue' or orillero street rhythms and humorous melodrama of early tango as opposed to more solemn later flavors. They truly believe that the essence of tango lies in its 1920s spirit of rebellion and spontaneity witch puts it ideologically closer to rock music than to the orchestral forms that popularized it in the world since the 1940s.
La Chicana has performed at numerous festivals and special events throughout the world. In 1997 they performed routinely in Buenos Aires while working on their first CD, Ayer hoy era mañana, out in early 1998, combining revisited classics: tango, milonga, candombe- with their own unreleased songs.
They were given the UNESCO International Merit Award atn the Teatro Colon in Buenos Aires. During the first half of the year 2000 La Chicana performed extensively in Buenos Aires, recorded their second album and did a tour of Spain that included six cities. Because of the success they were invited to present their second CD with a similar tour in February 2001. Back in Buenos Aires they performed many shows promoting the album with many of the guests that appear in it, and TV and radio appearances.
During 2001 La Chicana had numerous engagements in Buenos Aires – Notorious, Ghandi, Tobago, T. Tasso – and they began recording their third CD. In December their second CD "Un giro extraño" was voted by Leon Gieco as album of the year in the music section of newspaper "Pagina 12". They started recording sessions for their third CD.
In early 2003 La Chicana produced their third album Tango agazapado and they finished shooting for the documentary feature: "Tango: Un giro extraño" directed by Mercedes Garcia Guevara.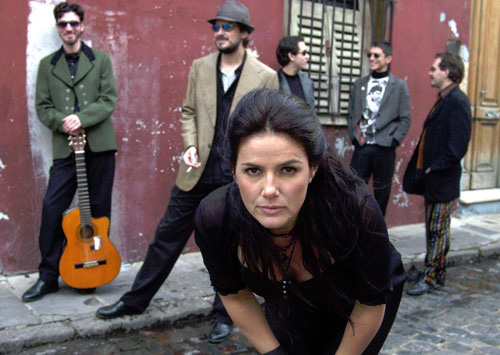 The short subject film "El Elegante" was finished in Los Angeles. Produced by Kalmia Pictures and 20th Century Fox it is totally scored by Acho Estol with music performed by La Chicana.
On August 29th La Chicana presented Tango agazapado at ND Ateneo, a theater in Buenos Aires. During the rest of 2003 they received excellent press reviews for this record.
In early 2004 they received the prestigious "Carlos Gardel Award" for Tango agazapado in the "Best New Tango" category.
Although the lineup has changed several times, the group is led by vocalist Dolores Solá and guitarist and composer Acho Estol.
Discography
* Ayer Hoy Era Mañana (1997)
* Un Giro Extraño (2000)
* Tango agazapado (2006)
* Revolución o picnic (2011)
* Antihéroes y tumbas (2015)
* La Pampa Grande (2016)
Website: www.lachicanatango.com