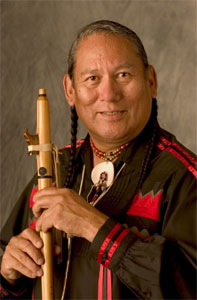 R. Carlos Nakai, of Navajo-Ute heritage, is the leading Native American flutist, having sold more than 3.5 million albums. He has received two gold records for Canyon Trilogy and Earth Spirit, the first American Indian recordings to earn this achievement. He has also garnered six Grammy nominations and numerous Native American Music Awards.
Originally a performer of the classical trumpet, Nakai was given a Native American flute and challenged to see what he could do with it. Mixing the traditions of his Native American heritage with an iconoclastic outlook, Nakai was on the cutting edge of the renaissance of indigenous American culture. Following his first release in 1983, Changes, he would go on to release more than thirty albums with Canyon Records plus additional albums and guest appearances on other labels.
In 2004, the R. Carlos Nakai Quartet released its fourth adventure in global native groove, People of Peace, featuring R. Carlos Nakai, vocalist Mary Redhouse, multi-instrumentalist AmoChip Dabney, and percussionist Will Clipman.
Mutual fans of one another's musical careers, Keola Beamer and Nakai met when Nakai was organizing a workshop at Kalani Honua in Hawaii. Nakai wanted to include Hawaiian culture in the workshop and Beamer offered his services. Nakai approached Beamer to see if he would be interested in doing a musical collaboration mixing disparate cultures. The result is Our Beloved Land (2005).
Our Beloved Land features the sound of the Native American flute accompanied by the harmonies of the slack key guitar. Several songs also feature Beamer's soulful vocal renditions of original and traditional Hawaiian songs.
Discography
Changes (Canyon Records, 1983)
Cycles (Canyon Records, 1985)
Journeys (Canyon Records, 1986)
Jackalope (Canyon Records, 1986)
Earth Spirit (Canyon Records, 1987)
Sundance Season (Celestial Harmonies, 1988)
Carry the Gift (Canyon Records, 1988)
Desert Dance (Celestial Harmonies, 1988)
Canyon Trilogy (Canyon Records, 1989)
Winter Dreams (Canyon Records, 1990)
Natives (Silver Wave Records, 1990)
Spirit Horses (Canyon Records, 1991)
Emergence: Songs of the Rainbow World (Canyon Records, 1992)
Ancestral Voices (Canyon Records, 1992)
Weavings (Canyon Records, 1992)
Migration (Silver Wave Records, 1992)
Boat People (A Musical Codex) (Canyon Records, 1993)
Dances With Rabbits (Canyon Records, 1993)
How the West Was Lost (Silver Wave Records, 1993s)
Honorable Sky (Silver Wave Records, 1994)
Native Tapestry (Canyon Records, 1994)
Island of Bows (Canyon Records, 1994)
Feather, Stone & Light (Canyon Records, 1995)
Awakening the Fire (Canyon Records, 1995)
How the West Was Lost Volume Two (Silver Wave Records, 1995)
Kokopelli's Cafe (Canyon Records, 1996)
Improvisations in Concert (Silver Wave Records, 1996)
Two World Concerto (Canyon Records, 1997)
Inside Canyon de Chelly (Canyon Records, 1997)
Mythic Dreamer (Canyon Records, 1998)
Red Wind (Canyon Records, 1998)
Winds of Devotion (EarthSea Records, 1998)
Inside Monument Valley (Canyon Records, 1999)
Inner Voices (Canyon Records, 1999)
Big Medicine (Canyon Records, 1999)
Ancient Future (Canyon Records, 2000) t
In a Distant Place (Canyon Records, 2000)
Edge of the Century (Canyon Records, 2001)
ETribal (Canyon Records, 2001)
Through Windows & Walls (EarthSea Records, 2001)
Fourth World (Canyon Records, 2002)
Sanctuary (Canyon Records, 2003)
In Beauty, We Return (Canyon Records, 2004)
People of Peace (Canyon Records, 2005)
Our Beloved Land (Canyon Records, 2005)
Reconnections (Canyon Records, 2006)
Talisman (Canyon Records, 2008)
Guadalupe, Our Lady of the Roses (Canyon Records, 2008)
Dancing into Silence (Canyon Records, 2010)
Ritual (Mysterium Music, 2014)