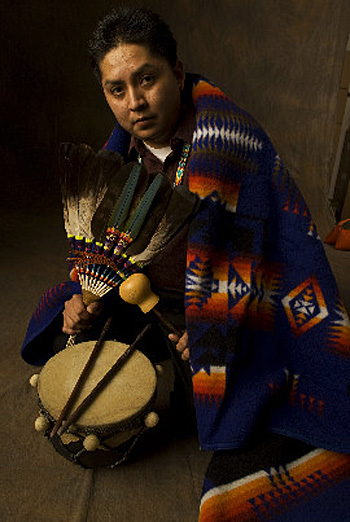 Kevin Yazzie is a Diné (Navajo) musician born in Teesto, Arizona. Kevin now resides in Mesa, Arizona with his wife, Alberta, and children Shailen, Natashbah, and Jamon Noah. Kevin started singing at the age of six at Pow Wows and the Native American Church. At the age of thirteen Kevin grew closer to the Native American Church and it's songs of prayer and started composing songs soon after.
The Peyote medicine and prayer songs have provided him with comfort throughout his life. Many of his songs come from his inspirations, his friends, family and those who are in need of comfort, healing and spiritual uplifting. In 2009, Kevin's solo harmonized Peyote recording Faith (Canyon Records) was a finalist for the 2009 Grammy in the Native American Music category.
Kevin Yazzie's albums include the Peyote song recordings First Light (Canyon Records) and Awakening of Life (Canyon Records) he made with Navajo (Diné) musician Cheevers Toppah and the solo album Faith (Canyon Records), where Yazzie uses lush multi-part vocal harmonies, soothing melodies, accompanied by gourd and water drum, to perform songs of healing and prayer in an inspirational expression of faith in the Native American Church.
Discography
* First Light (Canyon Records CR-6436)
* Awakening of Life (Canyon Records CR-6458, 2009)
* Faith (Canyon Records CR-6444, 2008)
* Hope: Harmonized Peyote Songs of the Native American Church (Canyon Records, 2010)
* Love: Songs of the Native American Church (Canyon Records, 2011)
* Charity: Songs of the Native American Church (Canyon Records, 2013)