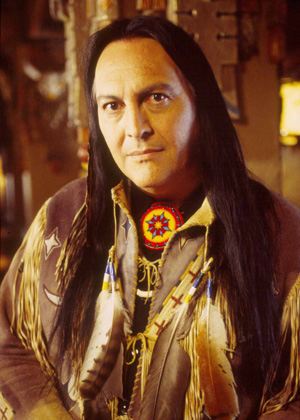 Bill Miller has long been one of the most admired figures in the Native American music arena and beyond. A Grammy award-winning recording artist, and six-time N.A.M.A. award winner, Bill hails from northern Wisconsin (his tribe is called Mahicanuk which means People From Where The Waters Are Never Still).
His Indian name, Fush-Ya Heay Ka, means "bird song". He learned traditional songs at an early age and later began to play folk music and bluegrass as well as the Native American flute, which he came to master.
Miller has written songs with the likes of Nancy Griffith, Peter Rowan and Kim Carnes, and shared the stage with national recording artists such as; Pearl Jam's Eddie Vedder, the BoDeans, Richie Havens, Arlo Guthrie and Tori Amos who he was the opening act for her 'Under The Pink' U.S. and Canadian 2 date tour. Guthrie states of Miller, "he has always reminded me of what our singers and writers are all about, singing what cannot be spoken, echoing what cannot be heard, in ways that ring true and honest."
Miller's long recording career includes remarkable albums such as: Loon, Mountain and Moon, The Red Road, Reservation Road Live, Raven in the Snow, Ghostdance and The Art of Survival. Over the past years, Bill has produced several projects, including Spirit Rain and Cedar Dream Songs that blend Native American and western folk/blues traditions in something wholly new. Spirit Rain and Cedar Dream Songs bought Bill great recognition and earned him a Grammy Award for Best Native American Recording. He has an equally active career as a painter and his work has been shown and sold in prestigious galleries around the country. He is currently working with John Carter Cash for his next recording.
Bill Miller is also available for the College Lecture Circuit. He shares the rich heritage of his Native American roots; the trials and tribulations of overcoming the stereotype of our Native Americans. Bill becomes the storyteller; explaining how he draws from visual images of a medicine man, when he writes or paints. He demonstrates the creative process, both musically and visually; how they are one in the same.
Bill's lecture topics include Life on the Reservation, Music, Art, Community Outreach and Awareness. Bill normally spends the day in the classrooms and then brings the community together for an evening concert.
Discography
Bill Miller and Native Sons (Windspirit, 1983)
Old Dreams and New Hopes (Windspirit, 1987)
The Art of Survival (Vanguard, 1990)
Loon, Mountain And Moon (Vanguard, 1991)
Reservation Road – Live (Vanguard, 1992)
The Red Road (Warner Western, 1993)
Raven in the Snow (Warner Nashville, 1995)
Native Suite: Chants, Dances, and the Sacred Earth, with Robert Mirabal (Warner Western, 1996)
Ghostdance (Vanguard, 1999)
Healing Waters (JVO Records, 1999)
Hear our Prayer (Integrity, 2000)
Spirit Rain (Paras, 2002)
A Sacred Gift (Paras, 2003)
Cedar Dream Songs (Paras, 2004)
Spirit Songs: The Best of Bill Miller (Vanguard, 2004)
Spirit Wind North (Cool Springs Music Group, 2009)
Spirit Wind East (Cool Springs Music Group, 2010)
Chronicles of Hope (Cool Springs Music Group, 2010)