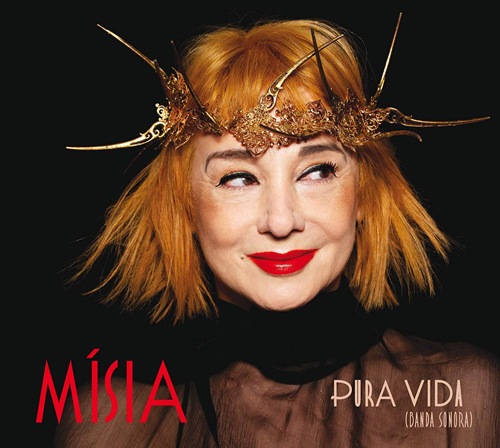 Misia – Pura Vida (Banda Sonora) (Galileo Music, 2019)
Portuguese singer Misia is known for her superb vocals and unconventional approach to fado, exerting artistic freedom. This is evident as soon as she listen to the first track, "Rosa Negra no Meu Peito II" on her new album Pura Vida (Banda Sonora). Misia delivers a fado exclusively with voice and bass clarinet, a rare combination in the genre.
Throughout the album, the focus is on the vocals intertwined with virtuosic instrumental performances. On track 2, "Ouso Dizer," Misia continues with her rebel approach by using Portuguese guitar and an electric guitar solo.
Although the first two songs are in Portuguese, she switches over to Spanish on track 3, "Corazón y Hueso."  This is a deeply passionate tango piece, with a mix of vocals, bandoneon, piano and guitar. She is joined by famed Argentine singer Melingo, a former rocker turned tango singer.
Misia returns to Portuguese language and exquisite fado on track 4, "Os Homens Que Eu Amei," utilizing piano, guitar and violin.
Track 5, "Lágrima" includes reverberating ambient electric guitar and vocals.
On "Ausência" she combines fado vocals with soaring electric guitar, clarinet and violin.
Track 7, "Fado dos 2 Pardais," is a lovely classic fado with voice, Portuguese guitar and piano.
On "Escrevo na Pele," Misia's ensemble includes impassioned violin, piano and guitar.
Ghostly drone-like electric guitar, piano and bassoon give way to Misia's vocals on track 9," Destino."
On "Pasión", Misia returns to Spanish language with another tango, although this time she adds electric guitar to the familiar tango sounds. Portuguese fado singer Ricardo Ribeiro joins Misia, singing in Spanish as well.
Track 11, "Fadinho do Anúncio," mixes fado with a Gypsy Jazz swing feel.
Back to fado on Track 12, "Santo e Senha" featuring piano, violin and Portuguese guitar with dreamlike sounds underneath it all.
A third tango song in Spanish is included in Pura Vida. "Prelúdio para el Año 3001" is a recreation of a song by Astor Piazzolla, a contemporary tango with piano, bandoneon and clarinet.
The album ends with an outstanding classic fado titled that winds up with a final drone.
More about Misia.