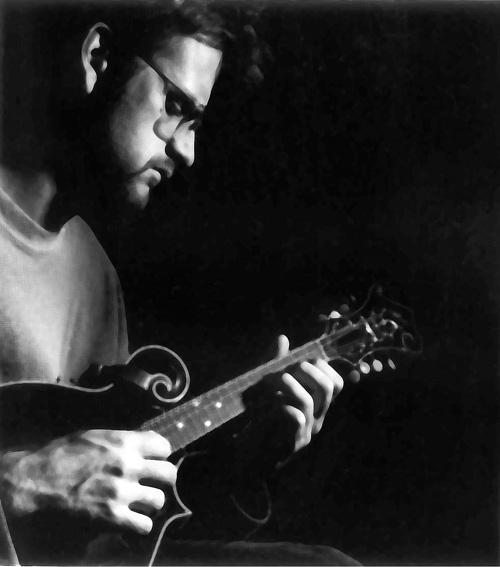 Multi-instrumentalist Matt Flinner was born March 14, 1969 in Pueblo, Colorado. He started out as a banjo prodigy who performed at bluegrass festivals before he entered his teens. Flinner later learned mandolin, won the banjo contest at Winfield, Kansas, in 1990, and received the mandolin award there the following year.
Flinner's decision to focus on eight-stringed instruments, especially the mandolin, was fundamentaly a result of opportunity. He explains, "I was getting more work on the mandolin." Sugarbeat, an eclectic quartet that also featured banjoist Tony Furtado, lead vocalist and guitarist Ben Demerath, and bassist Sally Truitt allowed him the opportunity to master the mandolin in a contemporary folk and bluegrass context.
Flinner is now generally considered one of the finest mandolin players on the American acoustic music scene. He tours regularly with the Matt Flinner Trio, as a member of the 'new acoustic' trio Phillips, Grier & Flinner, as a member of Darrell Scott's band, and with guitarist Frank Vignola (David Grisman Quintet). Flinner also special guests on banjo with Leftover Salmon and in the fall of 2008 was a featured soloist with Trey Anastasio and Carlo Aonzo during Orchestra Nashville's performance of "Concertino" (Don Hart). He also appeared on comedian Steve Martin's recording The Crow and the Vignola Collectives' March 2009 release, Gypsy Grass.
Discography
* The View from Here (Compass Records, 1998)
* Phillips, Grier & Flinner, by Todd Phillips, David Grier & Matt Flinner (Compass Records, 1999)
* Latitude (Compass Records, 2001)
* Walking on the Moon (Compass Records, 2003)
* All Star Bluegrass Jam-Along for Mandolin, book + CD (Homespun, 2007)
* Music du Jour (Compass Records, 2009)