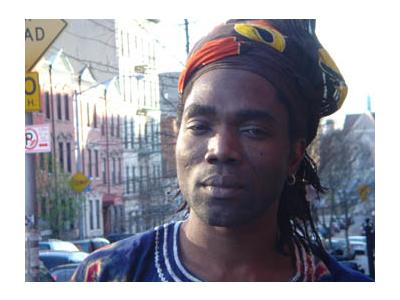 Born in the Ivory Coast (West Africa), Azouhouni Adou began his musical career early on accompanying some of most the well-known and respected Ivorian artists, such as Ernesto Djedje and Alpha Blondy. In 1984 he moved to Paris to study jazz composition and improvisation and played keyboard for Afro-pop stars such as Abetti Massekini, Pierre Akendenge, Oumou Sangare, Pascal Lokoua, Tony Allen, Meiway, and Cheb Kaleb.
Since 1992, Azhouhouni has lived in the United States. His US career began in Denver, Colorado, where he continued his band Adu, playing in venues alongside such jazz greats as Tito Puente, John Lee Hooker, Terence Blanchard, Herbie Mann, and Rickie Lee Jones, and played keys with a US-army jazz band touring Bahrain, Saudi Arabia, UAI, and Diego Garcia.
In 1995, Azouhouni moved to New York where he immediately became widely recognized as a leading innovator in the City's African music culture and beyond. He has performed with The African Blue Note Band, Katende, Worldly Vibe, Atlas Soul, The Soukous Stars, and Source in venues such as the Lincoln Center, Summer Stage, Celebrate Brooklyn?s Prospect Park, SOB's, the Zinc Bar, Satalla, Joe's Pub, and Sugar Bar. As Musical Director, Azouhouni spent two years (1998-2000) at Disney's Animal Kingdom in Orlando, Florida with the Harambe Band, and with the Pepe Kale/Rigo Star Tour in Oakland, California.
An accomplished studio producer and arranger by age twenty, Azouhouni has produced CDs for Ivorian artists such as Adeliz, Dan Log, Bennie Bezy, and Jonny Zoug, and Malian singer Djoss Diabate. He produced and released two albums of his own; Lago (JBZ Studios, 1989) and Worrro (JBZ Studios, 1991) with American singer Heather Maxwell. Afroyorkers was a project with his own ensemble. Afroyorkers presented Azhouhouni's fresh and sophisticated urban style of original compositions and Afrobeat classics.
Discography:
Lago (JBZ Studios, 1989)
Worrro (JBZ Studios, 1991)
I Gotta Go (Zohoré Records, 2005)
Haklima, with Djoss Diabate (Goin' Native Records, 2005)