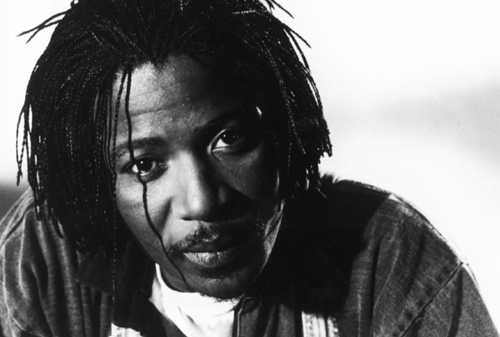 Alpha Blondy has become one of the world's biggest reggae stars. Inspired musically by Jamaica, and specially Bob Marley, Blondy also sings about struggle, revolution, peace, love and corruption.
Alpha Blondy was born Sedou Kone in Dimbroko, Ivory Coast. He was raised by his grandmother, who imparted knowledge from the Koran as well as traditional Jula morality. It was she who gave him the nickname "Blondy", a version of the Jula word [also spelled Dyula, Dyoula, Diula, Dioula, Djula] for "bandit", after he was thrown out of school for forming his own band. He added the name "Alpha", which means "beginning" or "first", hence his name means "first bandit." As a young man he spent two years studying English at Columbia University in New York, often performing reggae in the streets and at Harlem clubs. Leading Jamaican producer Clive Hunt heard him singing Bob Marley songs and recorded six tracks with him that were not released. An altercation with the Ivorian ambassador in New York led to his arrest when he returned home to the Ivory Coast. There, a fight with a policeman led to jail. He finally was released and launched his career in earnest.
His debut recording, released internationally as Jah Glory, featured "Brigadier Sabari", an account of a street raid by Abidjan police in which Blondy was nearly beaten to death. It became a sensation as others marveled that he had the courage to voice anti-police sentiments. He formed the Solar System Band and signed to EMI, recording his anthemic "Cocody Rock" in 1984. He was now drawing big crowds in Paris as well as Abidjan. Alpha then made a pilgrimage to Jamaica to Tuff Gong studios where he recorded the monumental Jerusalem album with the Wailers. The title track features lyrics in English, Hebrew and Arabic, reflecting his pan-cultural perspective. Widespread international touring, including his first American tour in 1987, established Blondy as a truly global star; his 1992 album Masada was released in 50 countries.
Three years before, he was voted the number one artist by a Radio France international poll. Having celebrated his 20th Anniversary as a recording artist with the release of the sublime Merci, Alpha Blondy resumed touring the United States after a period of cancelled tours. The shows were powerful, high-energy affairs often lasting over two hours, which showed that Alpha still is one of the world's greatest live reggae performers.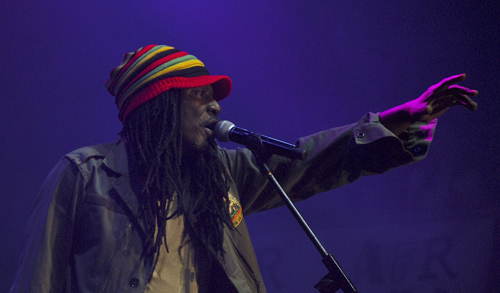 The issues that plague The Ivory Coast and other African nations are prominent on Alpha Blondy's 2005 CD, Elohim, a wide-ranging set of classic Marley-esque reggae that showcases Alpha to be as vital as ever. Some artists raise political and social issues in their songs but Alpha Blondy the most popular international reggae star since Bob Marley, confronts them in real life as well as his music. With his beloved homeland, The Ivory Coast shattered by civil war and facing potential disintegration at the time, Alpha attempted to act as an honest broker between various factions in the country. It was dangerous work but Alpha is driven to see peace and justice prevail. Despite the fact that he has been jailed before, he still chooses to uses his music as a vehicle for positive change. "Machine guns sing louder than me," he has noted "but if we don't find a quick solution now…we'll be talking about a war that will last maybe twenty years or more."
Discography:
Jah Glory! (Syllart Production, 1982
Cocody Rock!!! (Pathé Marconi EMI, 1984)
Apartheid Is Nazism (Pathé Marconi EMI, 1985)
Jérusalem (Pathé Marconi EMI, 1986)
Revolution (Pathé Marconi EMI, 1987)
The Prophets (Pathé Marconi EMI, 1989)
S.O.S Guerre Tribale (Jimmy's International Production, 1991)
Masada (EMI France, 1992)
Live Au Zenith (EMI France, 1993)
Dieu (EMI France, 1994)
Paris Bercy (EMI France, 1995)
Grand Bassam Zion Rock (EMI, 1996)
Yitzhak Rabin (Une Musique, 1998)
Elohim (Deelie, 2000)
Merci (Shanachie, 2002)
Jah Victory (Mediacom, 2007)
Vision (Wagram Music, 2011)
Mystic Power (VP Records, 2013)
Positive Energy (Wagram Music, 2015)
Human Race (Wagram Music, 2018)