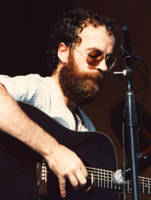 Micheal Ó Domhnaill was born and raised in Kells, County Meath, Ireland. Mícheál and his sisters, Triona and Maighread grew up in Kells, spending their school vacation with their parents in Irish-speaking Rann naFeirste.
Their father, Hugh, was a musician, singer and collector of songs. Their mother, Brid, was a choir singer, so the children grew up in a very fertile musical environment. They received music lessons from an early age. Mícheál received piano lessons from the age of six until he was sixteen. At that age he decided to focus on the guitar, his preferred instrument.
Summers in Donegal brought the siblings into contact with their aunt, Neil?, a well-known singer who had a vast repertoire of songs in Irish and English. Other acquaintances made in Donegal were Pol and Ciarán Brennan (members of Clannad), and Daithi Sproule (long a member of Altan).
Mícheál and Triona came together with Daithi when they went to University College Dublin in the late 1960s. They played gigs around Dublin and Mícheál and Daithi spent a summer as the house band at Teach Hiuda? Bhig in Gaoth Dobhair (Gweedore), Donegal. Around 1970, the three siblings -Mícheál, Triona and Maighread – teamed up with Daithi Sproule to form Skara Brae.
Skara Brae produced an album of the same name, Skara Brae, in 1971, and broke up in 1972. The album was re-released in 1998 by Gael-Linn.
Then followed a stint with Mick Hanly in a duo named Monroe, which release the album Celtic folkweave in 1974. In 1975 he was a founder member of one of the most influential Irish traditional bands The Bothy Band. In the four years the band was together they toured extensively and recorded several highly acclaimed albums and although The Bothy Band broke up in 1979 their legacy still lives on in the young traditional bands coming out of Ireland today.
After the demise of The Bothy Band , Micheal moved to the United States of America where he played with many musicians including fiddle player Kevin Burke, also of The Bothy Band .
Later, he formed Nightnoise. The group began as a collaboration between American fiddler Billy Oskay, and Irish singer/guitarist Mícheál Ó Domhnaill. Together, they released the album Nightnoise in 1984. Three years later, Mícheál's sister, Irish pianist/vocalist Triona N? Dhomhnaill, who had previously collaborated with her brother in Skara Brae, Relativity, and The Bothy Band; and Irish-American flutist Brian Dunning joined the original duo. Nightnoise, the band, was born. Nightnoise gained widespread recognition and acclaim throughout The United States and Europe.
Micheal returned to Ireland in the 1990s. He recorded the album Athcuairt/Reprise with fiddler Paddy Glackin
Micheal Ó Domhnaill died July 9, 2006, in Dublin. He was 54.
Discography:
Skara Brae (Gael Linn, 1971)
Celtic Folkweave, with Mick Hanly (1974)
With The Bothy Band:
The First Album: 1975 (Mulligan Lun 002/Green Linnet 3011, 1975)
Old Hag You Have Killed Me (Mulligan/ Green Linnet 3005, 1976)
Out of the Wind, Into the Sun (Polydor 2383456/Green Linnet 3013, 1977)
After Hours-Live in Paris (Green Linnet 3016, 1979)
The Best of the Bothy Band (Polydor 3170583/ Green Linnet 3001, 1983)
BBC Radio One: The Bothy Band Live In Concert (Green Linnet, 1996
With Kevin Burke
With Relativity
Relativity (1985)
Gathering Pace (1987)
With Nightnoise:
Nightnoise (Windham Hill Records, 1984)
Something of Time (Windham Hill Records, 1987)
At the End of the Evening (Windham Hill Records, 1988)
The Parting Tide (Windham Hill Records, 1990)
Shadow of Time (Windham Hill Records, 1993)
A Different Shore (Windham Hill Records, 1995)
The White Horse Sessions (Windham Hill Records, 1997)
Pure Nightnoise, compilation (2006)