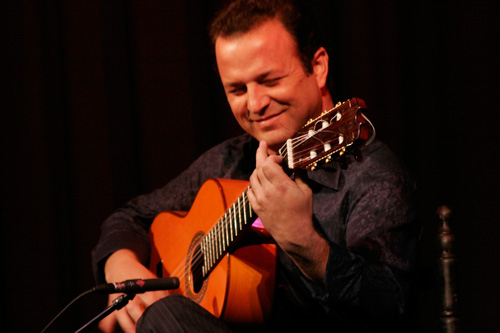 Gerardo Núñez is considered one of the best guitarists of all genres in the world today. He is comfortable playing deeply emotional traditional Flamenco at an amazing speed, but he can also venture into jazz, Latin music, and other genres with ease.
Gerardo Núñez was born in 1961. He grew up in Jerez de la Frontera, in southern Spain, listening to Flamenco and also to American rock and jazz. At an early age, he took guitar lessons from Rafael Aguilar. At fourteen, he was a skilled player and accompanied well-known Flamenco singers like Tío Gregorio El Borrico, Terremoto de Jerez, José el de la Tomasa and Manuel Mairena.
Gerardo studied at the Cátedra de Flamencología (Flamencology School) in Jerez de la Frontera, the only music school in Spain with a department exclusively dedicated to teaching Flamenco music. Later, he moved to Madrid, where he worked with various professional Flamenco dance companies, including the famous Mario Maya Dance Company, where he met world class dancer Carmen Cortés, who later became his wife. In 1981, Gerardo toured Japan together with fellow guitarist Paco Cepero.
Settled in Madrid, Gerardo began to experiment with top jazz musicians like pianist Tomás San Miguel and Nuevo Flamenco saxophone player and flautist Jorge Pardo. Gerardo also participated in the annual Flamenco Summit several times and has performed as a solo artist and with his band in New York City, Tokyo, Paris, Zurich, Sao Paulo, Dublin and many other cities.
Gerardo Núñez has recorded as a guest with pop stars like Julio Iglesias, Mecano and Rosario and other world class artists such as Radio Tarifa, Danilo Pérez, John Patitucci, Michael Brecker, and Andreas Vollenweider.
In 1998, American world music label Alula Records released an album produced and recorded in New York City, titled Calima. The album featured renowned jazz and world music musicians, such as pianist Danilo Perez, percussionist Arto Tuncobeciyan and bassist John Patitucci.
In 2002 he won the Giraldilla award for best flamenco guitarist at the Bienal de Flamenco.
In recent years, Gerardo has been nurturing new guitarists. In 2003 he produced the album La nueva escuela de la guitarra flamenca (The new school of flamenco guitar), which features José Manuel León Delgado, Antón Jiménez, Juan Antonio Suárez, Jesús de Rosario, Vicente Cortés and Gerardo Nuñez himself.
In 2016, Gerardo recorded an album with Swedish guitarist Ulf Wakenius.
Gerardo lives in Madrid during winter and spends summers in southern Spain, taking care of his vineyard and teaching guitar workshops in Sanlucar de Barrameda.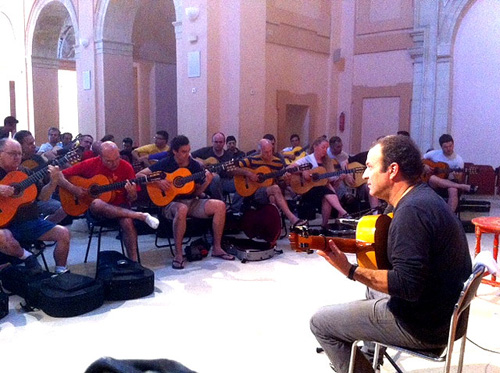 Discography
* El Gallo Azul (Flamencos Accidentales, GASA, 1987)
* Flamencos en Nueva York (Spain: GASA/Europe and USA: Verabra Records, 1989). Reissued as Flamencos en Nueva York (DRO East West, 1989). Midline CD compilation featuring tracks from El Gallo Azul and Flamencos en Nueva York.
* Jucal (El Gallo Azul, 1994)
* Jucal (Alula Records, 1997). Longer American version, featuring additional 15 minutes of music.
* Salomé (Art-Danza, 1998). Soundtrack from the 'Salomé' dance show.
* Calima (Alula Records, 1998)
* Jazzpaña II (Act 9284-2, 2000)
* Cruce de Caminos, with Perico Sambeat (Resistencia RESCD 115, 2001)
* Andando el tiempo (2004)
* Travesia (ACT Music, 2012)
* Logos, with Ulf Wakenius (ACT Music, 2016)
Bibliography
* Flamenco. El Arte de Gerardo Núñez. Vol. I (Flamenco. The Art of Gerardo Nuñez. Vol. 1), 2002
* La técnica al servicio del arte. Vol. II (Technique at the service of art. Vol. II), 2002
web site www.gerardonunez.com