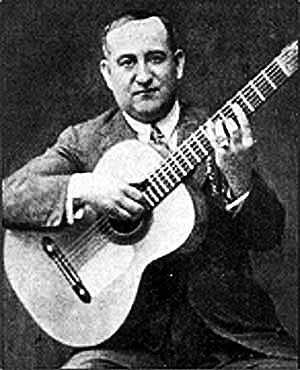 Ramón Montoya Salazar is considered a genius by most Flamenco guitarists. He was born November 2, 1879. Some biographies mention he was born near Toledo (Spain), while others indicate his birthplace as Madrid, Spain.
As a child he visited Madrid's influential Cafe de la Marina, watching guitarists play. The key moment came when he met the most important classical guitarist of that time Miguel Llobet.
Ramón Montoya recorded his first solo piece as a soloist in 1936 in Paris, at the age of 56. Until then Montoya had only recorded as accompanist.
Ramón Montoya died July 20, 1949 in Madrid, Spain.
Discography:
Flamenquistas volume II (Stinson Records, 1962)
Arte Clasico Flamenco. Un Maestro De La Guitarra (Hispavox, 1971)
Le Vrai Flamenco Instrumental ‎(Disc'Az, 1974)
Great Masters of Flamenco, Vol .5 – Grandes Figures Du Flamenco (Le chant du Monde, 1996)
El Genio De La Guitarra Flamenca (2003)
Maestro De La Guitarra Flamenca ‎(Calé Records, 2011)