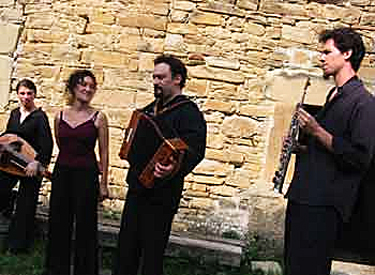 Din delòn was formed in 1999 by Italian accordionist Andrea Capezzuoli. The group researched Italian dance songs and released its second CD 'La rosa e la ramella' published by Folkclub Ethnosuoni from Casale Monferrato, as well as their participation in different festivals and events all over Italy, Switzerland, France, Belgium and Holland. Modern instruments were part of the mix and new, different musical languages have been explored, without forgetting the tie, which Din delon has with traditional Italian music.
In 2001 Din delon recorded a few live tracks for the Italian Swiss Radio. In 2003 FNAC published in Spain a CD compilation with Italian traditional music on which a track from 'La rosa e la ramella' is included.
Band members included Andrea Capezzuoli on accordion and vocals; dancer, actress and singer Simona Scuri; Caroline Tallone on ghironda (hurdy gurdy); saxophonist Lorenzo Colombo (later replaced by Alessandro Arioli) and Alessandra Cecala on acoustic bass, guitar and vocals.
Discography:
Din delòn (2000)
La Rosa e la Ramella ‎(FolkClub Ethnosuoni, 2002)