Caetano Veloso is one of the most influential and beloved artists to emerge from Brazil. He's been an acclaimed artist since the 1960s. Veloso has made more than thirty recordings to date and has developed a strong international following. 
Born in Santo Amaro, Bahia, in 1942, Caetano Veloso began his professional musical career in 1965 in Sao Paulo. In his first compositions, he was influenced by the bossa novas of Joao Gilberto, but rapidly began to develop his own distinctive style. 
Absorbing musical and aesthetics ideas from sources as diverse as The Beatles, concrete poetry, the French Dadaists and the Brazilian modernist poets of the 1920s, Caetano, together with Gilberto Gil, Gal Costa, his sister Maria Bethania and several other poets and intellectuals, founded a movement called Tropicalismo.
 
By experimenting with new sounds and words, adding electric guitars to their bands and using the imagery of modern poetry, Caetano became a musical revolutionary. The short-lived Tropicalismo movement, founded in 1968, ended abruptly when Caetano and Gil were briefly imprisoned by the military junta that same year. Both musicians left the country and went into exile for a few years. Veloso lived in London during most of that time. 
Now, generally credited with redefining what is know as Brazilian music, Tropicalismo led the groundwork for a renaissance of Brazilian popular music, both at home and abroad. Caetano and Gil returned to Brazil in 1972 and found that Tropicalismo had remained intact and their admirers continued to grow. 
Although Tropicalismo set the tone for Caetano's career, his music has evolved greatly over the years. Incorporating elements of rock, reggae, fado, tango, samba canao, baiao and rap – with lyrics containing some of the best poetry in a musical tradition rich in verse – Caetano's music is sometimes traditional, sometimes contemporary, often hybrid. 
Caetano is a skilled social commentator and balladeer of highly emotive love songs, one of the most respected poets in the Portuguese language. Indeed he is one of only a handful of artists who has resolved how to be musically modern and still undeniably Brazilian.
Veloso followed his 1999 Grammy Award-winning Nonesuch Records' release Livro, an album that received widespread critical acclaim in the United States of America and brought with it his first-ever US tour, with a soundtrack for the Carlos Diegues film Orfeu. 
In Spring 2001, Nonesuch released Noites do Norte (Nights of the North), a meditation on themes of race, slavery and Brazil's quest for a national identity. Caetano also completed a book on Brazilian music and culture, published in the US by Knopf. 
Caetano later released Omaggio a Federico e Giulietta, a live recording made in 1997 in Rimini in honor of two masters of Italian cinema, Federico Fellini and Giulietta Masina. 
Caetano's long-awaited memoir, Tropical Truth: A Story of Music and Revolution in Brazil, was published by Knopf in Fall 2002, alongside the release of a new 2-CD set, Live in Bahia, on Nonesuch Records.
On April of 2004, Caetano Veloso released his first album sung entirely in English. A Foreign Sound (Nonesuch Records) reveals the diversity of American songwriters he has loved and studied over the years, from Irving Berlin, Rodgers and Hart, and Cole Porter to Stevie Wonder, Bob Dylan and David Byrne.
A Foreign Sound is a culmination of Veloso's longstanding exploration of American music. Surprising and imaginative interpretations of American songs have been a staple of his recent live shows, and they have made occasional appearances on his studio albums over the years.
As he explains in his acclaimed memoir, Tropical Truth: A Story of Music & Revolution in Brazil (Knopf 2002), he came to some of his favorite American singers and musicians, including Billie Holiday, Ella Fitzgerald, Chet Baker, Miles Davis, and the Modern Jazz Quartet, by tracing the steps of his foremost musical hero, Joao Gilberto.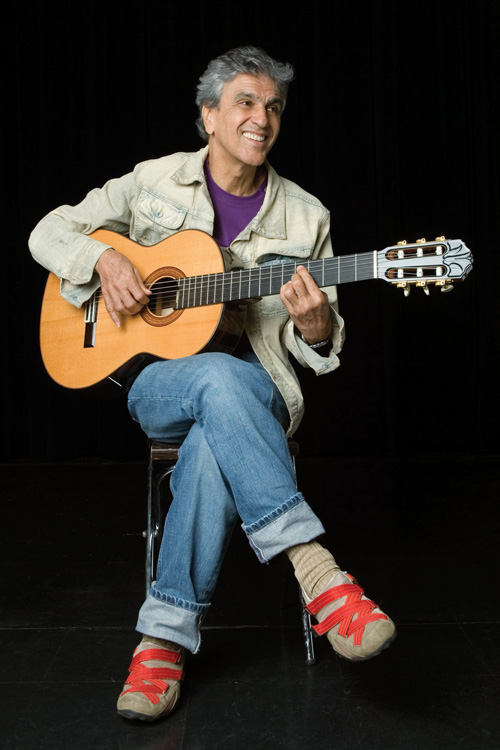 On A Foreign Sound, Veloso interprets several songs he first learned listening to these artists in the early 1960s, including 'So In Love,' 'Love for Sale,' 'Manhattan,' and 'Body and Soul.' Other songs have particular significance in the context of Brazilian culture, such as the1970s hit 'Feelings,' which is widely used to teach English there.
Veloso's approach to the music varies from track to track. While on some songs he is backed by a 28-piece orchestra, on others his only accompaniment is his signature acoustic guitar playing. 'Love for Sale' is recorded completely a cappella. Among the many accomplished musicians featured on the album are Caetano's son Moreno and his longtime collaborator Jaques Morelenbaum, who contributes as arranger, conductor and cellist.
In 2016, Caetano Veloso and Gilberto Gil released Dois Amigos, Um Século de Música: Multishow Live. It's a live two-disc collection, recorded during a 50-show worldwide tour. The album and tour celebrate 50 years of friendship and artistic collaboration.
Discography
* Transa (1971)
* Caetano E Chico Juntos E Ao Vivo, with Chico Buarque (Philips, 1972)
* Temporada De Verao Ao Vivo Na Bahia, with Gal Costa and Gilberto Gil (Philips, 1974)
* Qualquer Coisa (Philips, 1975)Joia (Philips, 1975)
* Os Doces Barbaros, with Maria Bethania, Gal Costa and Caetano Veloso (Philips, 1976)
* Muitos Carnavai (Philips, 1977)
* Bicho (Philips, 1977)
* Muito (Philips, 1978)
* Ao Vivo, with Maria Bethania (Philips, 1978)
* Cinema Transcendental (Polygram, 1979)
* Brasil, with Joao Gilberto, Gilberto Gil and Maria Bethania (Philips, 1981)
* Outras Palavras (Polygram, 1981)
* Cores, Nomes (Polygram, 1982)
* Uns (Polygram, 1983)
* Brazil Night Montreaux '83 (1983)
* Velo (Philips, 1984)
* Caetanear (Philips, 1985)
* Bethania, Caetano e Amigos, with Maria Bethania (Philips, 1985)
* Caetano Veloso (Nonesuch, 1986)
* Totalmente Demais (Polygram, 1986)
* Melhores Momentos de Chico e Caetano, with Chico Buarque (Sigla, 1986)
* Caetano (Polygram, 1987)
* Estrangeiro (Elektra, 1989)
* Sem Lenco Sem Documento (Verve 836 528, 1990)
* Circulado (Polygram, 1991)
* Circulado – Ao Vivo (Polygram, 1991)
* Tropicalia 2, with Gilberto Gil (Polygram, 1993)
* Personalidade, Best of (Verve 514 137, 1993)
* Fina Estampa (Polygram Latino 522 745, 1994)
* Fina Estampa – En Vivo (Polygram Latino 528 918, 1995)
* Tieta Do Agresta, with Gal Costa (Blue Jackel, 1996)
* O Quatrilho (Blue Jackel, 1997)
* Livro (Philips, 1998/USA Nonesuch 79557, 1999)
* Prenda Minha (Mercury, 1999)
* Orfeu (Brazil: Natasha/USA: Nonesuch, 1999)
* Omaggio a Federico e Giulietta (Mercury, 1999/Nonesuch 79599)
* Noites Do Norte (Universal-Globo, 2000)
* Noites Do Norte Ao Vivo (Universal, 2001)
* Eu Não Peço Desculpa, with Jorge Mautner (Universal, 2002)
* Live in Bahia (Nonesuch Records 79761, 2002)
* A Foreign Sound (Nonesuch Records, 2004)
* Onqotô, with Jose Miguel Wisnik (2005)
* Cê (2006)
* Caetano Veloso e Roberto Carlos (Sony/BMG 2008)
* Zii e Zie (2009)
* Abraçaço (2012)
* Dois Amigos, Um Século de Música: Multishow Live, 2CD, with Gilberto Gil (Nonesuch, 2016)
Sources and credits
Photo by Fernanda Negrini