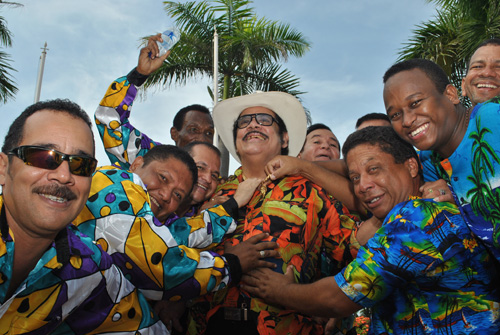 Anibal Velasquez, known by his fans as "El Mago" (the Magician), has been one of the most prolific musicians of Colombia's Musica Tropical movement. Anibal was born into a musical family in Barranquilla in 1936. His father was an accomplished musician but his biggest influence was his older brother Juan who first introduced him to the secrets of the accordion.
One of the turning points was a chance encounter with Robertico Roman, a musician from Cartagena. "It was with Roberlico Roman that I formed my first band called Los Vallenatos de Magdalena. I made my first recording with that band in 1952. Four songs were recorded including a track called 'La Gallina,' which became a huge hit and really spread the coastal sound toward the interior of the country."
Unfortunately soon after, in 1955, band-mate Robertico died and Los Vallenatos de Magdalena had to disband. Without a band, Anibal was forced to take a job as a session musician for Barranquilla-based label Disco Eva working for a group called El Conjunto Colomboy. He remained with Disco Eva until the end of the 1950s, working closely with the great costeño master Lucho Campilo.
Then, in 1960, Anibal formed a new group together with his elder brother Juan, a gifted musician in his own right, and his younger brother Jose who would soon become his right hand man, enabling Anibal to add a new dimension to his playing style.
Jose himself began experimenting by incorporating new instruments and re-inventing old rhythms, He would break the rules and replaced the traditional bongos used in Cuban guaracha and rumba with a traditional Colombian drum called "La Caja" that he modified by adding "radiografias médicas" (x-ray films) over the drum. This, combined with Anibal's powerful accordion – was to become a sensation, generating a much harder and drier sound than the traditional leather skin drums.
Anibal's new guaracha style was infectious, fast and furious, often leading his crowds into a state of frenzy. The interest for Anibal's new innovative sound started growing and numerous recording offers came in.
Anibal began to have an impressive amount of followers, drawing huge crowds wherever he went. By the mid-1960s, music in La Costa began to change drastically. With the onset of the hippie movement in the United States came a craving for marijuana, and Colombia's Caribbean Coast had become a main trafficking hub. A new economy of drugs had emerged and with it a musical style called Vallenato rose to prominence.
Vallenato's distinct accordion sound and bluesy appeal made it a favorite among drug lords and mafiosos alike, becoming the soundtrack for their feverish life-styles. By the 1970s the level of violence in the coast had grown to unprecedented heights and Vallenato was everywhere. Fed up with this, Anibal decided to move to Caracas, Venezuela, where he remained for 18 years until finally returning bock to his beloved Barranquilla in the late 1980s.
Anibal's contribution to Colombia's Musica Tropical Movement is very significant. It is said that Anibal Velasquez recorded 300 LPs throughout his remarkable career.
Selected Discography
* Ritmo y el Sabor (2005)
* Mambo Loco (Analog Africa, 2010)