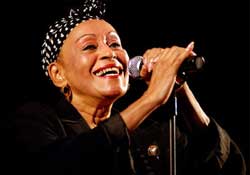 San Francisco, USA (PRWEB) — SFJAZZ is proud to announce the line-up for the 21st Annual San Francisco Jazz Festival presented by Target Stores, a two-and-a-half-week extravaganza featuring the best in jazz today, from October 23 through November 9, 2003.  The Festival presents a phenomenal array of concerts: legendary masters alongside groundbreaking newcomers, time-honored traditions mixed with bold exploration, and players and sounds from around the globe as well as from our own Bay Area backyard.
Featuring concert hall shows at Masonic Auditorium and Oakland's Calvin Simmons Theatre, intimate performances at Herbst Theatre and Florence Gould Theatre at the Palace of the Legion of Honor, a swinging Bay cruise, and a rousing tribute at Grace Cathedral, the 2003 Festival continues its tradition. As always, proceeds from the festival will benefit SFJAZZ's music education programs in Bay Area schools.This year, the Festival kicks off with a very special evening with McCoy Tyner, a member of John Coltrane's "classic quartet" of the 1960's, in a rare solo piano engagement at the Herbst. Also at the Herbst, hot young piano star Peter Cincotti makes his Festival debut and soul-stirring singer Mavis Staples presents a tribute to gospel great Mahalia Jackson at the Festival's annual Sacred Space concert at Grace Cathedral.       
Other Festival highlights include world music singing sensations Omara Portuondo (Cuba) and Virginia Rodrigues (Brazil) at the Masonic; "A Taste of Umbria": a series of intimate concerts with some of the brightest new talents and forward-looking figures in Italian jazz; the long-awaited return of R&B great Ruth Brown; an evening with jazz great Dave Holland and his Quintet at the Palace of Fine Arts; legendary piano master Cecil Taylor in a solo performance, also at the Palace of Fine Arts; powerhouse singer Etta James and her Roots Band at the Masonic Auditorium; local legends Maria Muldaur and Dan Hicks share a double-bill at the Palace of Fine Arts; and the Bay Area jazz scene comes together to celebrate the life and work of esteemed jazz critic Phil Elwood in the annual SFJAZZ Beacon Award celebration.
The Festival's extraordinary lineup continues with Spanish flamenco piano phenomenon Chano Dominguez; the "Rematch" of Hammond B-3 icons Jimmy Smith and Joey DeFrancesco at Bimbo's 365 Club; guitar master Bill Frisell and his Intercontinentals, sharing a bill with innovator Marc Ribot; a members-only
concert with Marian McPartland; an elegant evening with Nancy Wilson and Ramsey Lewis at the Masonic; the 20th anniversary celebration of the Keith Jarrett/Gary Peacock/Jack DeJohnette trio; the ever-popular Bay Cruise, and much more.
SCHEDULE AT A GLANCE:
21st Annual SAN FRANCISCO JAZZ FESTIVAL
October 23 – November 9, 2003
br>
Thursday, October 23, noon
Union Square
FREE
Youth in Jazz
SFJAZZ All-Star High School Ensemble
Thursday, October 23, 7:30pm
Herbst Theatre, Van Ness & McAllister Streets, SF
Solo Piano: McCoy Tyner
McCoy Tyner
Friday, October 24, 8pm
Herbst Theatre, Van Ness & McAllister Streets, SF
New Sensation: Peter Cincotti
Peter Cincotti;
Julian Lage
Friday, October 24, 8pm
Grace Cathedral, California & Taylor Streets, SF
Sacred Space
Mavis Staples Sings Mahalia Jackson
Friday & Saturday, October 24 & 25, 8pm
Palace of Fine Arts Theatre, Lyon & Bay Streets, SF
Sun Rings
Kronos Quartet
Saturday October 25, 2pm
Florence Gould Theatre, Palace of the Legion of Honor, SF
Best of Italy I
Gabriele Mirabassi/Luciano Biondini Duo;
Gianluigi Trovesi/Gianni Coscia Duo
Saturday, October 25, 8pm
Masonic Auditorium, California & Taylor Streets, SF
Buena Vista Social Club presents
Omara Portuondo;
Virginia Rodrigues
Saturday, October 25, 8pm
Herbst Theatre, Van Ness & McAllister Streets, SF
From Broadway to the Bay
Ann Hampton Callaway
Sunday, October 26, 7pm
Herbst Theatre, Van Ness & McAllister Streets, SF
Miss Brown Comes to Town
Ruth Brown
Joe Louis Walker
Sunday, October 26, 7pm & Family Matinee 3pm
Palace of Fine Arts Theatre, Lyon & Bay Streets, SF
An Evening with
Dave Holland Quintet
Thursday, October 30, 7:30pm
Palace of Fine Arts Theatre, Lyon & Bay Streets, SF
Solo Piano II
Cecil Taylor, solo
Friday, October 31, 8pm
Herbst Theatre, Van Ness & McAllister Streets, SF
Best of Italy II
Enrico Rava & Paolo Fresu "Play Miles Davis";
Doctor 3
Saturday, November 1, 2pm
Florence Gould Theatre, Palace of the Legion of Honor, SF
Best of Italy III
Enrico Rava/Stefano Bollani Duo;
Danilo Rea/Stefano Di Battista Duo
Saturday, November 1, 8pm
Masonic Auditorium, California & Taylor Streets, SF
Let's Roll
Etta James & the Roots Band
Sunday, November 2, 2pm
Florence Gould Theatre, Palace of the Legion of Honor, SF
Singing On Sunday I
René Marie
Sunday, November 2, 7pm
Palace of Fine Arts Theatre, Lyon & Bay Streets, SF
Local Legends Sing All-Time Favorite Classics
Maria Muldaur "Remembering Peggy Lee";
Dan Hicks & Jazztet Noir
Monday, November 3, 7:30pm
Herbst Theatre, Van Ness & McAllister Streets, SF
SFJAZZ Beacon Award: A Salute to Phil Elwood   
Mel Martin's Bebop & Beyond Quartet; Kim Nalley; Leon Oakley's Friends of Jazz;
Denise Perrier; Larry Vuckovich's Young at Heart Band; Denny Zeitlin Trio with
Mel Graves & George Marsh; (more TBA)
Wednesday, November 5, 7:30pm
Palace of Fine Arts Theatre, Lyon & Bay Streets, SF
Flamenco Jazz
Chano Domínguez
With special guest Jerry Gonzales
Thursday, November 6, 7:30 & 10pm
Bimbo's 365 Club, 1025 Columbus Ave., SF
B-3 Summit: The Rematch
The Jimmy Smith Group
The Joey DeFrancesco Trio
Friday, November 7, 8pm
Calvin Simmons Theatre, Ten 10th St., Oakland
Intercontinental Guitar
Bill Frisell & The Intercontinentals
Marc Ribot y los Cubanos Postizos
Friday, November 7, 8pm
Herbst Theatre, Van Ness & McAllister
SFJAZZ Members Only Concert: Piano Jazz…Live!
Marian McPartland
Saturday, November 8, 8pm
Masonic Auditorium, California & Taylor Streets, SF
Simple Pleasures
Nancy Wilson & Ramsey Lewis
Sunday, November 9, 11am
Signature Yacht Events' San Francisco Spirit; Pier 9
Swingin' on the Bay
Lavay Smith & Her Red Hot Skillet Lickers
Swing Fever featuring Denise Perrier
Sunday, November 9, 2pm
Florence Gould Theatre, Palace of the Legion of Honor, SF
Singing on Sunday II
Kitty Margolis
Sunday, November 9, 7pm
Masonic Auditorium, California & Taylor Streets, SF
The Trio at 20
Keith Jarrett/Gary Peacock/Jack DeJohnette
TICKETS:    (FREE to $75) On sale now to SFJAZZ members, on sale to the public August 3, 2003; available in person (without service charge) at the SFJAZZ Box Office, 3 Embarcadero Center, Lobby Level, SF; on SFJAZZ's web site, www.sfjazz.org (service charge applied); and via Tickets.com (service charge applied) by phone at 415/776-1999 [outside CA
800/225-2277]. Tickets for Herbst Theatre concerts are only available by calling City Box Office at 415/392-4400
INFO:    415/788-SFJF (7353) [outside CA 800/850-SFJF (7353)] or www.sfjazz.org