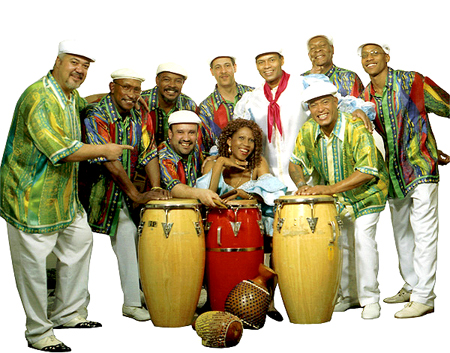 New York City, USA – To celebrate some of the rich cultures that make Queens one of the most diverse regions in the country, the LaGuardia Performing Arts Center is launching a multicultural music series on March 12 with the United States premiere of Palo Flamenco, an internationally acclaimed Spanish flamenco troupe.
"Performance Planet," as the series is being called, consists of five concerts, each of which features a contemporary international artist. "Because LaGuardia has one of the most diverse student populations in the country, and is located in one of the nation's richest ethnic areas," said President Gail O. Mellow, "it is only fitting that the college's performing arts center develop programs that cater to the musical tastes of its students and the communities it serves."
Jeffrey Rosenstock, the center's visiting artistic director, agrees. "Our hope is to expand the current programs offered by LaGuardia's LPAC and to create a series that will resound with both students and the greater New York City community. The college has wonderful resources including two beautiful theaters and we are eager to bring diverse cultural attractions of quality to draw
multicultural audiences to the programs being presented."
The scheduled performers are:
March 12
Palo Flamenco (, U. S. premiere), a group that integrates the music of the Spanish Basque countryside with the bold dance beat of Andalusian gypsies. LPAC is co-producing this concert with Queens Theatre in the Park.
March 24
Haale, a New York singer/songwriter of Persian heritage whose folk, alternative rock music is infused with ancient Sufi-inspired lyrics. Click here for more information about this concert.
April 14
Gino Sitson – a New York-based Cameroonian vocalist who combines jazz, gospel, blues, and traditional African rhythms and melodies.
May 7
Raices Habaneras A Cuban music and dance troupe based in La Esquina Habanera (Havana Corner) in Union City, New Jersey that performs rumba music in its purest form.
June 14
Kevin So, a Chinese singer/songwriter whose powerful music is a blend of pop, rhythm and blues, and hip hop.
In selecting the talent for a concert series that the organizers hope will be an annual event, Claudia Norman, the artistic director, said, "our intent is not only to feature artists from different cultural backgrounds who are currently residing in the United States, but also to introduce to our
audience artists who have never performed in the United States. In the years to come, we hope to bring more artists from abroad."
The concerts will be held in the college's Little Theatre at 47th Avenue and Van Dam Street, Long Island City. Performances will begin at 7:30 p.m.
General admission tickets are $12; $7 for students and seniors. Those who wish to purchase tickets, may call the box office at (718) 482-5151. For information on the center's other cultural events, please visit www.lagcc.cuny.edu/lpac.