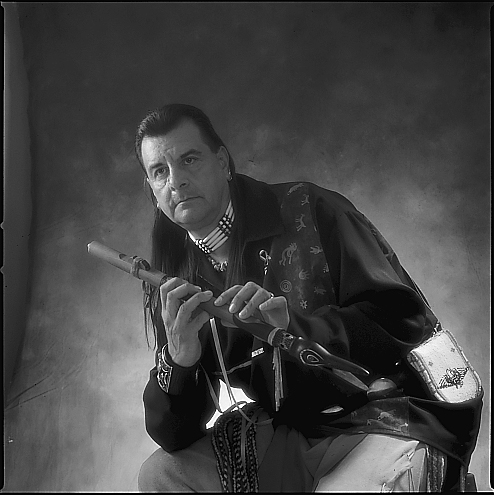 Robert "Tree" Cody (also known in the Maricopa language as Oou-Kas Mah Quet or "Thunder Bear") was born April 20, 1951 in Los Angeles, California. He is a Native American flutist, dancer, artist, educator and actor who has performed throughout the United States, continental Europe, Canada, Scandinavia, the United Kingdom, East Asia, Central & South America and Mexico
As an enrolled member of the Salt River Pima Maricopa Community and of Dakota heritage, Cody shares his knowledge of Native American culture, song, dance and music as a performer and invited lecturer at concert halls, universities, museums, schools, and colleges throughout the world.
A versatile flute player and a gifted singer, Cody has eight albums on the Canyon Records label. His most recent album, Crossroads, brings together for the first time, the music of the native people of the Great Plains and Mexico. This recording teams him with Mayan flutist Xavier Quijas Yxayotl (Huichol). Native Flamenco, fuses the Native American cedar flute with flamenco guitar and ethnic percussion into a hot lively sound. Guitarist, Ruben Romero, and percussionist, Tony Redhouse, perform with him on this groundbreaking recording.
Maze, travels a musical journey through the Southwest. Set prior to European arrival to Turtle Island, a wanderer of the North travels and meets the nations of the Southwest. Maze was a Native American Music Awards winner as Best New Age Album of 1999, and it's track "The Bird Song" was a finalist as Best Song of the Year.
In 1999, Cody appeared as a featured guest artist on a Windham Hill modern jazz release by Russ Freeman and the Rippingtons.
Cody has a remarkable ability to communicate with people of all cultures. His knowledge of six Native American languages, in addition to English, Spanish and a bit of French and Japanese is useful when he travels abroad. Cody holds a special place in his heart for young people of all cultures, and generously gives with his time and many talents for people in need.
Discography:
Traditional Flute Music Of The Native American ‎(Canyon Records, 1988)
Young Eagle's Flight (Canyon Records, 1991)
White Buffalo (Canyon Records, 1996)
Dreams From The Grandfather (Canyon Records, 1996)
Native Brotherhood, with Ruben Romero ‎(New Earth Records, 2001)
Maze (Canyon Records, 2002)
Reflections ‎(Canyon Records, 2003)
Heart of the Wind – Music for Native American Flute and Drums, with Will Clipman (Canyon Records, 2006)