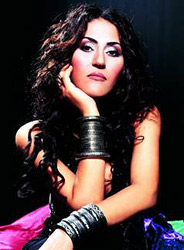 Aynur has a new video titled 'Rewend,' which is a song included in her new album 'Rewend,' released in 2010. Fatih Akin shot the video of title song 'Rewend' in Hasankeyf. Aynur was born in 1975 in Tunceli where she filled her soul with the virtues of her traditional folk culture, learned the great tales, legends and songs and accumulated a musical culture which would later define her musical character.
She combined the musical legacy of her ancestors with her unbelievably strong voice. After she moved to Istanbul, she released two albums Kece Kurdan/2004, Nupel/2005, took part in Fatih Akin's movie "Crossing the Bridge" , had cover stories in many international magazines and newspapers and became an international artist with the mission of carrying her Kurdish musical heritage, with her voice to anywhere she goes. After an incredible performance in 2006 Womex, she gave many concerts and made sold out tours all around the world.
Aynur was born in 1975 in the small mountainous town of Cemisgezek in Tunceli province in southwestern Turkey. She attended the ASM School of Music studying music education and the saz – a stringed instrument somewhat similar to the guitar and very popular in Turkish folk music. During her studies she also began formal voice training and was vocally coached by Turkish artists Begüm Erdem and Askin Metiner.
Her professional recording career began in 2002 with the release of her debut album "Seyir". She went on to collaborate both in the studio and live in performance with a slew of leading Turkish musicians such as Metin-Kemal Kahraman, Lütfü Gültekin, Anjelika Akbar, Kardes Türküler, Mikail Aslan, Mercan Dede, Cemil Koçgün as well as with the group Orient Expressions and Grup Yorum. She also lent her talent to a few soundtrack projects cutting tracks for film and television.
She soon began to garner international recognition thanks to her dedication to touring and live performance that centered on her unique voice, saz playing and a repertoire built around passionate and elegant folk tunes sung both in Kurdish and Turkish. In 2004 Aynur cut the emotionally charged Keça Kurdan following it up a year later with Nûpel both projects released on Kalan Müzik label. They earned the artist praise at home and abroad thanks to their down to earth arrangements and Aynur's evocative, rich voice and set the stage for her to become one of the top selling Kurdish folk artists.
She has drummed up plenty of attention internationally appearing on the cover of the famous British music magazine fRoots in 2004. On March 21st 2005 Aynur subsequently landed the cover for a special supplement celebrating Turkey's culture and diversity in the London Times. She also went on to appear on the cover of leading Spanish magazine Sons in a special edition on Turkey and she has appeared on numerous occasions on television and radio across Europe.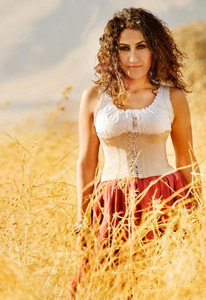 She has gone on to appear in films as well appearing first in "Gönül Yarasi-Heartache" directed by Yavuz Turgul in which she sang a moving rendition of a Kurdish folk song. In addition to her noteworthy performance, the film was all the more remarkable as it marked the first occasion in which a Turkish movie featured a song sung in Kurdish.
In 2005 Aynur, graced the screen again in Fatih Akin's extraordinary documentary "Istanbul Hatirasi / Köprüyü Geçmek-Crossing the Bridges". The film explores the rich diversity of the modern Turkish music scene. One of the absolute high points of the film was Aynur's stunning studio rendition of a Kurdish folk ballad highlighting both her exquisite, powerful voice and tasteful saz playing. The international success of the film introduced her to even more audiences and earned her attention and praise from the media as well as appearances at a slew of international festivals.
2005 was also notable for her collaboration with the famed Nederlands Blazers Ensemble. The musical encounter was so fertile that it spawned Turqoise, a live album featuring highlights culled from the performances and released the following year. 2005 continued to be a landmark year as Aynur took part in La Mar de Musicas a festival in Cartagena, Spain which was dedicated to celebrating all aspects of Turkey's rich literature, music and culture. She followed up her remarkable performance at the festival with her first tour of Spain.
She would return to Spain the following year as part of the World Music Exposition (WOMEX) in Seville after which she embarked on a whirlwind world tour which took her to Ireland, Singapore, the U.S, Canada, Portugal, Germany, Italy, France, Tunisia, Slovenia, Serbia, Switzerland, Belgium, Netherlands, Finland, Sweden, Greece…etc
In 2008 Aynur took time out to lend her voice to a good cause recording a track for the album Güldünya. The project aimed to raise awareness about domestic violence and featured tracks from many of the leading female voices on the Turkish music scene today. That same year saw Aynur taking part in the World of Music Arts and Dance (WOMAD) the pre-eminent festival aimed at celebrating the world's many and varied forms of music, arts and dance. Both of her performances at the two WOMAD events she participated in Caceres and Las Palmas in the Canary Islands, Spain were enthusiastically received by both audiences and critics.
2010 saw the young singer busier than ever. She sang at the opening ceremony kicking off Istanbul's year as The European Capital of Culture. In late January she then went on to perform at the Küstendorf Film and Music Festival in Serbia organized by the renowned director Emir Kusturica. Her performance in front of an audience consisting of some of today's leading actors and directors was very well received and earned her high praises.
Aynur released a brand new CD in 2010, her first in over 2 years. The latest album "Rewend" released by Sony Music was recorded mostly in Mainz, Germany.
Buy Rewend.