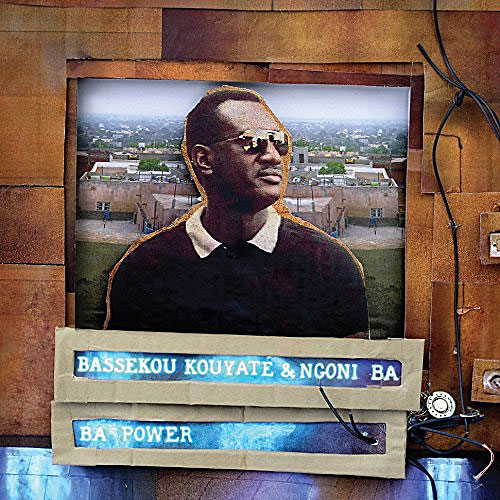 The newly created Transglobal World Music Chart (TWMC) released today, October 1st, 2015 the first list of its history. The Transglobal World Music Chart features the top world music recordings of the month selected by a panel of international journalists and radio DJs representing various continents. Bassekou Kouyaté & Ngoni Ba's album Ba Power took the number one position.
1) Bassekou Kouyaté & Ngoni Ba – Ba Power (Glitterbeat Records)
2) Canzoniere Grecanico Salentino – Quaranta (Ponderosa Music & Art)
3) Monsieur Doumani – Sikoses (Monsieur Doumani)
4) Totó la Momposina – Tambolero (Real World Records)
5) Taraf de Haïdouks – Of Lovers, Gamblers and Parachute Skirts (Crammed Discs)
6) Ballaké Sissoko & Vincent Ségal – Musique de Nuit (Six Degrees Records)
7) Titi Robin avec Mehdi Nassouli – Taziri (World Village)
8) Mbongwana Star – From Kinshasa (World Circuit Records)
9) Samba Touré – Gandadiko (Glitterbeat Records)
10) Debashish Bhattacharya – Slide Guitar Ragas from Dusk till Dawn (Riverboat / World Music Network)
11) Terakaft – Alone (OutHere Records)
12) Fatoumata Diawara & Roberto Fonseca – At Home (Jazz Village / Harmonia Mundi)
13) Monoswezi – Monoswezi Yanga (Riverboat / World Music Network)
14) Novalima – Planetario (Wonderwheel Recordings)
15) Songhoy Blues – Music in Exile (Transgressive Records)
16) Kelly Thoma – 7 Fish (Kelly Thoma)
17) Ludovico Einaudi – Taranta Project (Ponderosa Music)
18) Efrén López – El Fill del Llop (Buda Musique)
19) Pat Thomas and Kwashibu Area Band – Pat Thomas and Kwashibu Area Band (Strut Records)
20) Amadou Balaké – In Conclusion (Stern's Music)
Members of the TWMC panel: Araceli Tzigane (Spain), Ángel Romero Ruiz (USA), Juan Antonio Vázquez (Spain), Seth Jordan (Australia), Tony Hillier (Australia), Charlie Crooijmans (The Netherlands), Patrik Lindgren (Sweden), Nigel Wood (Ireland), Dore Stein (USA), Roger Holdsworth (Australia), Radio Mixticius (Colombia), Madan Rao (India), Gil Medovoy (USA), Chris Heim (USA), Ciro de Rosa (Italy), Scott Stevens (USA), Hendrick T.S. Foh (Malaysia), Cliff Furnald (USA), Jaïr Tchong (The Netherlands), Rob Weisberg (USA), Toni Polo (France/Spain), Nicolás Falcoff (Argentina), Masakazu Kitanaka (Japan), Jordi Demésenllà (Spain), Rafael Mieses (Dominican Republic), Luís Rei (Portugal), Jean Trouillet (Germany), Evangeline Kim (USA), Willi Klopottek (Luxembourg/Germany), Betto Arcos (Mexico/USA), Thorsten Bednarz (Germany), Alejandro López (Spain), Jon Kertzer (USA) , Ken Stowar (Canada), Jirí Moravcík (Czech Republic).
More details about the Transglobal World Music Chart