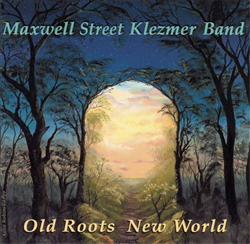 Maxwell Street Klezmer Band
Old Roots New World (Shanachie, 2002)
Hailing from Chicago and named after the infamous Maxwell Street, (an area compared to New York's Lower Eastside) and where Russian Jews immigrated during the last century, the Maxwell Street Klezmer Band ignites a party mood. However, I don't know if I would use the word band to describe this orchestra size unit. One photograph that accompanies the CD, Old Roots New World sports 17 musicians that amounts to lots of strings, horns, woodwinds, percussion, two vocalists and a non-stop celebratory mood.
Most of the compositions included on the discs were written during the heyday of American klezmer music and during a time when swing was the newest trend in jazz music. Many of the songs are short in length with the exception of Klezmer Rhapsody that last 17 1/2 minutes and it plays more like a frolic than a rhapsody.MSKB, although larger and hailing from Chicago, draws comparisons with their New York counterpart, The Klezmatics. However, singer Lori Lippitz who founded MSKB in 1983 leads this band and along with her troupe of musicians has played stages throughout Europe and across America. I am not an expert on klezmer music, but I imagine that it's rare to find a klezmer band of this size and importance led by a woman. Obviously Ms Lippitz is one extraordinary woman and musician.
The songs on the CD for the most part portray optimism and originate from films, weddings (Leah's Saraband was composed by Artistic Director Alex Koffman for Lori's wedding) and other celebrations. The actress-acrobat-dancer-songwriter Molly Picon is honored twice on the recording on the tracks Play Fiddle, Play/Yidle with the Fiddle that derives from a film that Molly appeared back in 1937 and the song You Should Only Be Well, written by Molly. The words to the song might offer hope to those folks currently struggling with their lives, "The air is free the whole world over…the sun shines just the same for the rich or poor…have a little fun, a little laughter, sometimes with friends."
Springtime marks a Jewish tango that doesn't speak of sexual longing, but over the anguish of losing a loved one. A woman mourns the murder of her husband. Ironically, the musician, Avrom Brodna who wrote the music for the tango, died in a concentration camp in 1943. On a lighter note, Live to Enjoy features Ralph Wilder's spunky clarinet solos embellished by frenzied horns and snazzy percussion. Musicianship in general is highlighted here with plenty of clarinet arpeggios, sparkling horns, weeping strings and crystal clear soprano vocals. The musicians bring their love for klezmer music to this disc and they have a rollicking good time sharing their music with a deserving audience.
www.klezmerband.com