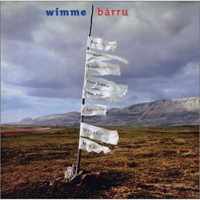 Wimme
Barru (Northside, 2003)
One listen to Wimme's fourth release Barru (wave) and we can only wonder if Sami yoiker Wimme Saari has been listening to Bauhaus, Joy Division and Skinny Puppy recordings since elements of all those groups appear on Barru.
This followup to Cugu, features heavier programming, and sadly the usual woodwinds as well as, musician Tapani Rinne are absent on this release. However, ukulele, mandolin, acoustic guitar, banjo and baglamas performed by the multi-instumentalist Matti Wallenius still embellish the mix.
Guest vocalists Liisa Matveinen and Tellu Turkka also contribute talent on njavvi, inka and durban.
Barru seems like the darker cousin of Cuga and it works as a backdrop for Wimme's immense vocal range. One minute he's chanting like a Navajo singer while the next he's growling like a wolf guarding it's kin or hooting like an owl on a chilly night.
The opener, njavvi (torrent) acts as the most playful song on the CD, light in tone and bouncy similar to Texas on the Cuga CD. Inka falls on the murkier side in which Wimme yoiks with raspy growls. On gorzi (waterfall), Wimme's tenorial yoiks cascade over lush music and programmed beats.
Fadnu feels dark and industrial recalling the early days of 4 AD records and Bauhaus. The yoik with its heavy electronic programming reflects on its arctic roots. Goalki (calm) Wimme switches back and forth between guttural bass and falsetto as he yoiks over an ethereal synthesizer wash. The dissonant cearret (arctic tern) again recalls early 4 AD recordings. Boares rieban (old fox) features low growls over frenzied drum beats. Durban marries Navajo chants to electronica.
While yoiking is a traditional style of singing of the Sami people, Wimme's composes contemporary yoiks
backed by modern technology. Traditional yoiks were sung by shamans and usually with no instrumentation or an animal skin drum accompanying the yoiker. Yoiking along with the Sami's spiritual practices were banned by Christians, but have resurfaced in parts of Scandinavia, but apart from liberal minded musicians, the world music community and the Sami people, yoiks are still frowned upon and prohibited in some regions.
Buy Barru
Compliments of Cranky Crow World Music