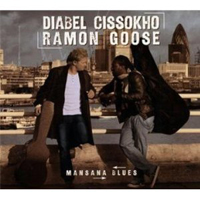 This week's GondwanaSound Album of the Week is Mansana Blues from Diabel Cissokho and Ramon Goose, two young creatives bringing their own traditions together, seamlessly.
13th February was declared the Annual International Radio Day. Whilst the internet competes with print media as the primary source of news distribution and downloads are now more popular than CDs – for many communities, radio remains the most affordable, widest reaching and leveling of today's media. GondwanaSound celebrated the day with Carlos Ramos, who had a successful career not only as a Fado singer but also as a broadcaster after originally pursuing a career in medicine. His track Vielas De Alfama is published on a new release from Arc Music, Legends of Fado.
Many artists owe a debt of gratitude to radio for giving them their career break and this gives me the opportunity to play a track from Esma Redezepova who won a radio talent contest. On the theme of talent contests and radio, we play a cut from Sandtracks the album by Tiris. The arts organization Sandblast who are both promoting and preserving Sarahawi culture, are raising money to build a radio station and recording studio to keep exiled communities in touch.
A tingle went down our spine when we played a cut from Tinariwen, who's album, The Radio Tisdas Sessions was, as the title suggests, recorded in the local Tamashek radio station. They worked frantically between the hours of 7:00 pm and midnight, the only hours where electricity was available. Who would have thought that eleven years ago they would be destined to receive a Grammy for Best World Music Album. Also nominated in the category were Afrocubism and I needed no excuse to play one of my all time favorite tracks, Jarabi from their self titled album. The vocals from Kade Massy Diabate are just heaven sent.
The Grammys were bitter sweet, the sad loss of Whitney Houston yet the amazing success for Adele. With 6 Grammy's she's just gone stellar and as we're quite partial to her album 21, here at GondwanaTowers, it's all blues and this is how we opened February 13th's broadcast. We finished with some unfettered playfulness from Dub Colossus whose Crazy in Dub makes us smile. Hope you hear something you enjoy.
http://www.mixcloud.com/GondwanaSound/120213_gondwanasound_live_broadcast