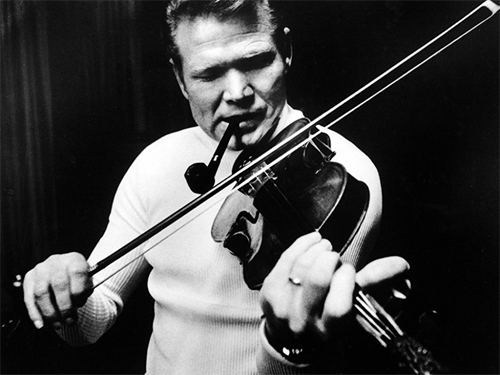 Vassar Clements was one the United States' most versatile fiddle players. His career began at a very early age. His phenomenal ability to virtually play any kind of music (bluegrass, country, pop, rock, jazz and swing) garnered him various awards including five Grammy nominations and a track record that involves multitudes of recording performances.
Vassar was a prolific composer of instrumentals and played seven instruments: violin, viola, cello, bass, mandolin, guitar and tenor banjo.
Vassar's career spanned over fifty years. His association with Bill Monroe began when he was only 14 years old and still in school. He started with Bill as a regular Bluegrass Boy in 1949 and was with him through 1956. From 1957 to 1961 he performed with bluegrass artists Jim & Jesse McReynolds. In 1962 he took leave from his music to pursue other interests but returned to full time music when he decided to make Nashville his home in January 1967.
Vassar did recording sessions and played tenor banjo in Nashville's Dixieland Landing club until October 1969. He then started touring with Faron Young and doing occasional solo dates when time permitted. In February 1971 he joined John Hartford and his Dobrolic Plectral Society, initiating a professional association and personal friendship that has grew stronger through the years. After ten months and earning an enormous amount of recognition and popularity, the group decided to disband. Vassar then found himself with the legendary Earl Scruggs and the Earl Scruggs Revue.
During that time, one of the most important milestones in his career was his participation on the Nitty Gritty Dirt Band's 1972 Landmark album Will The Circle Be Unbroken. This historical event was produced by William McEuen and featured an extravaganza of bluegrass, country and folk's greatest artists. It was the turning point that re-kindled Vassar's career and at the same time introduced him to a much younger non-country audience.
Within a few short months Vassar was recording and/or performing with Dicky Betts, Jerry Garcia, The Grateful Dead, The Allman Brothers, Linda Ronstadt, The Nitty Gritty Dirt Band, David Grisman, Paul McCartney, etc. In May 1973, The classic Old & In The Way album was recorded in San Francisco during a live performance. The Sales from this project have exceeded other albums of like kind and has formed staunch cults that still exist after twenty three years.
Since 1973 when Vassar signed his first major label deal with Mercury/Polygram records his personal discography ranged from country, waltzes, swing to jazz. Ironically, in 1992 he recorded his only straight bluegrass recording for Rounder Records titled Grass Routes.
His early experience growing with jazz and swing music left an indelible mark on his style. Vassar said: "bands like Glen Miller, Les Brown, Tommy Dorsey, Harry James and Artie Shaw were very popular when I was a kid. I always loved rhythm so I guess in the back of my mind the swing and jazz subconsciously comes out when I play because when I was learning I was always trying to emulate the big band sounds I heard on my fiddle." Understandably the form of jazz music created by Clements was a mix of the diverse influences that touched him throughout his career but particularly his affinity for the jazz and swing music of his youth.
Therefore it is no surprise that even though early in his career, as he learned and developed bluegrass and country styles, he also gained respect as a jazz player. Hence classic number two: Once In A While which resulted from a jam session with Miles Davis's ex-band members Dave Holland, John Abercrombie and Jimmy Cobb. Classic number three: Together At Last. with Stephane Grappelli was produced by Tim Yaquinto and recorded in Vassar's former studio.
Back Porch Swing was Vassar's first album to feature the Little Big Band. Recorded between September 1997 and September 1998 at the Historic RCA Studio B in Nashville Back Porch Swing was performed almost entirely live with the exception of vocal and string overdubs.
Vassar Clements participated in Dead Grass (2000) a bluegrass twist on some Grateful Dead favorites.
Full Circle (OMS Records) released in 2001 had Vassar returning to his bluegrass roots with an all star cast that included Sam Bush, Bela Fleck, Bryan Sutton, Peter Rowan, John Cowan, Josh Graves, Jeff Hanna, Jimmie Fadden, J. D. Crowe, Billy Troy, Alan O'Bryant, Ricky Skaggs, Jim & Jesse and Jake Landers.
In May of 2004 Runaway Fiddle (OMS Records) came out. This project was a labor of love of two of the greatest American fiddle players of modern times Vassar Clements and Buddy Spicher. Buddy Spicher is one of Nashville's most recorded session artists and arrangers. On Runaway Fiddle these two legends teamed up to record tunes they grew up loving playing and internalizing but for the most part never recording. Selections include 192's show tunes Western Swing Dixieland. Several songs are interpretations of songs popularized by country music icon Bob Wills who created the new art form called Western Swing.
His CD Livin' With The Blues (Acoustic Disc) was released in August of 2004. It was his first blues album. While Vassar Clements has often been considered the ?bluesiest? of the bluegrass fiddlers it wasn?t until producer Grisman asked him what kind of record he wanted to make that the soft spoken septuagenarian replied "I've always wanted to make a blues record."
Livin? With The Blues includes Skip James? swampy "Cypress Grove " with Vassar's lonesome fiddle accompanied by Bob Brozman's slide guitar. Elvin Bishop cleans house with his own "Dirty Drawers" and "That?s My Thing " while Maria Muldaursings with Vassar on "Honey Babe Blues" and Bessie Smith?s "I Ain?t Gonna Play No Second Fiddle." Other tracks include Roy Rogers desolate take on Robert Johnson?s "Phonograph Blues " "Mambo Boogie" featuring Dave Mathews and the Booker T. Jones classic "Green Onions " given a new twist by Charlie Musselwhite and Vassar. "Rube's Blues" featured blues guitar whiz David Jacob-Strain (who was 19 at the time) helping Vassar reinvent a bluegrass standard and Norton Buffalo with his unique soul treatment of his own "Don't Stand Behind A Mule."
In November of 2004 Vassar Clements joined bluegrass quartet The Biscuit Burners onstage at the Ryman Auditorium in Nashville. Vassar played on two of the band's original songs "Come On Darlin'" and "Red Mountain Wine". The surprise appearance was part of the historic Ryman Auditorium's $1 on the 1th Mystery Artist Series celebrating the 1 year anniversary of the legendary theater's renovation.
On March 11, 2005 Vassar was diagnosed with lung cancer. He died at his home August 16th, 2005 at 8:25 am. He was 77.
[Biography adapted from Vassar Clement's official biography].
Discography:
Vassar (Mercury Records)
Superbow (Mercury Records)
Southern Waltzes (Rhythm Records)
Vassar Clements John Hartford & Dave Holland (Rounder Records)
Crossing The Catskills (Rounder Records 1972)
Vassar Clements (MCA Records)
The Bluegrass Session (Flying Records 1977)
Grass Routes (Rounder Records)
Saturday Night Shuffle – A Celebration of Merle Travis (Shanachie Records)
Hillbilly Jazz (Flying Records 1978)
Hillbilly Jazz Rides Again (Flying Records)
New Hillbilly Jazz (Shikata Records)
Together At Last with Stephane Grappelli (Flying Records 1987)
Nashville Jam (Flying Records)
Westport Drive (Mind Dust Records)
The Man The Legend (Vassillie Productions)
Country Classics (Vassillie Productions)
Vassar Clements Reunion With Dixie Gentlemen (Old Homestead)
Once In A While, Jam with Miles Davis' ex-band members (Flying Fish Records 1992)
Live in Telluride 1979 (Vassillie Productions 1979)
Music City USA (Vassillie Productions)
Old And In The Way – Volume 1 (BMG Music)
Old and In The Way – That High Lonesome Sound – Volume 2 (Acoustic Disc)
Old and In The Way – Breakdown – Volume 3 (Acoustic Disc)
An Americana Christmas with Norman Blake (Winter Harvest)
The Bottom Line Encore Collection (Bottom line 1999)
Vassar's Jazz – Golden Anniversary (Winter Harvest)
Back Porch Swing (Chrome Records 2000)
Dead Grass (Cedar Glen Music Group)
20 Fiddle Tunes & Waltz Favorites
Full Circle (OMS Records 2001)
Will The Circle Be Unbroken – Volume II – 3th Anniversary Edition (Capitol Records)
Will The Circle Be Unbroken (United Artists)
Will The Circle Be Unbroken – Volume III (Capitol Records)
Old & In The Gray (Acoustic Disc)
Runaway Fiddle with Buddy Spicher (OMS Records)
Livin' With The Blues (Acoustic Disc 2004)
The Fiddle According to Vassar (Homespun Tapes). Taught By Vassar Clements. 9-minute DVD or VHS Includes music book
Vassar Clements In Concert – Vassar Swings (Shikata Records)
Vassar Clements In Concert – Ramblin' 81 (Shanachie Records)