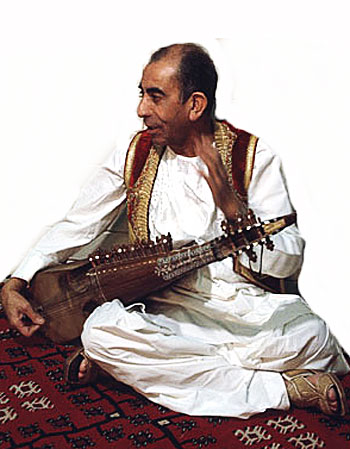 Ustad Mohammad Omar, one of Afghanistan's finest rabab players, became the first Afghan musician to teach in the United States of America when he arrived at the University of Washington in Seattle in 1974.
In 1979, Ustad Mohammad Omar appeared as a guest on the album Embryo's Reise by German jazz-rock and world music band Embryo.
In 2002, Smithsonian Folkways released an album titled Ustad Mohammad Omar, Virtuoso from Afghanistan. This CD documents his only public performance in the United States of America.
Playing his rabab, a short-necked lute that is plucked with a plectrum called a shahbaz, and accompanied on the tabla by a young Zakir Hussain, Mohammad Omar shared Afghan traditional music with the West in this memorable and important concert. Hussain and Omar had never met before that day, nor did they speak a common language, but their musical voices intertwine magically on this classic recording. The music is steeped in the traditions of Afghanistan and that country's own relationship to Indian and Pakistani musical influences, but this virtuoso performance stands alone as a triumph of Eastern music.
Ustad Mohammad Omar passed away in 1980.
Discography:
Music of Afghanistan (Smithsonian Folkways)
Embryo's Reise (Schneeball 20, 1979)
Ustad Mohammad Omar, Virtuoso From Afghanistan (Smithsonian Folkways SFW CD 40439, 2002)