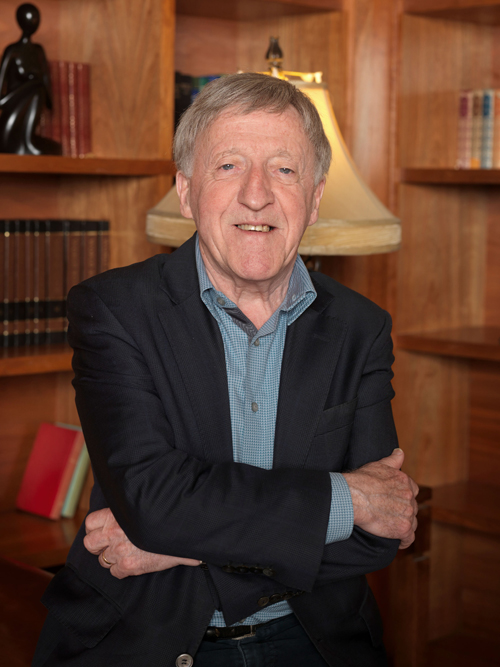 Dublin native Paddy Moloney taught himself how to play the tin whistle when he was six and learned the basics of music at school each day. Shortly after, he picked up the Uilleann pipes, and was taught by master piper Leo Rowsome.
Moloney was not influenced by other players. Instead, he developed his own style. He listened to old 78-rpm recordings and visited older musicians who took him under their wing. When he was a teenager, he entered musical competitions in Dublin's Feis Atha Cliath and won several all-Ireland medals. Before long, he was making friends with several other Irish musicians committed to keeping traditional folk music alive.
Moloney performed with a number of groups in Dublin, including The Happy Wanderer and The Loch Gamha Ceili Band, and then joined arranger/composer Seán Ó Riada's folksy chamber orchestra, Ceoltóirí Cualann. The group proved to be a sparkplug for interest in Irish traditional music and paved the way for the birth of The Chieftains.
In 1962, when the opportunity to record for Claddagh Records came along, Moloney formed his own band with fiddler Martin Fay, flute player Michael Tubridy, tin whistle player Seán Potts and bodhrán player Davy Fallon, thereby launching The Chieftains.
Discography
The Chieftains 1 (Claddagh Records CC 02, 1963)
The Chieftains 2 (Claddagh Records CC 07, 1969)
The Chieftains 3 (Claddagh Records CC 10, 1971)
The Chieftains 4 (Claddagh Records CC 14, 1973)
The Chieftains 5 (Claddagh Records CC 16, 1975)
The Chieftains 6: Bonaparte's Retreat (Claddagh Records, 1976)
The Chieftains 7 (Claddagh Records CC 24, 1977)
The Chieftains Live! (Claddagh Records CC 21, 1977)
The Chieftains 8 (CBS 35726, 1978)
The Chieftains 9: Boil the Breakfast Early (Claddagh Records CC 30, 1979)
The Chieftains 10: Cotton-Eyed Joe (Claddagh Records CC 33, 1981)
The Year of the French (Claddagh Records CC36, 1982)
The Grey Fox (1982) (soundtrack to The Grey Fox)
Concert Orchestra (1982)
The Chieftains in China (Claddagh Records CC 42, 1985)
Ballad of the Irish Horse (Claddagh Records CCF, 1986)
Celtic Wedding (RCA 6358, 1987)
In Ireland, with James Galway (1987)
Irish Heartbeat, with Van Morrison (Polydor 834496, 1988)
The Tailor Of Gloucester (WD-0710, 1988)
A Chieftains Celebration (RCA 7858, 1989)
Over the Sea To Skye: The Celtic Connection (1990) (with James Galway)
The Bells of Dublin (RCA 60824, 1991)
Another Country (RCA 60939, 1992)
An Irish Evening (RCA 60916, 1992)
The Celtic Harp: A Tribute To Edward Bunting, with The Belfast Harp Orchestra (RCA 61490, 1993)
The Long Black Veil (RCA Victor 09026-62702-2, 1995)
Film Cuts (RCA Victor 09026-68438-2, 1996)
Santiago (RCA Victor 09026-68602-2, 1996)
Long Journey Home (1998)
Fire in the Kitchen (1998)
Silent Night: A Christmas in Rome (1998)
Tears of Stone (1999)
Water From the Well (2000)
The Wide World Over (2002)
Down the Old Plank Road: The Nashville Sessions (2002)
Further Down the Old Plank Road (Arista/BMG, 2003)
Live From Dublin: A Tribute To Derek Bell (2005)
The Essential Chieftains (2006)
San Patricio, with Ry Cooder (2010)
Voice of Ages (2012)