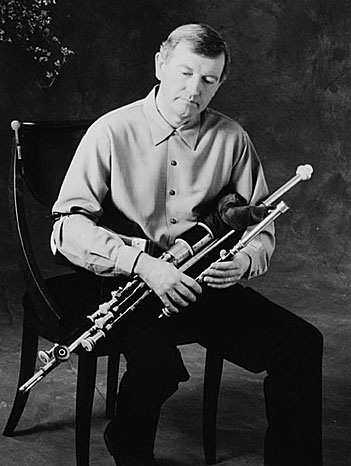 Master uilleann piper Liam O'Flyn, also known as Liam Óg Ó Floinn, was born  September 15, 1945 in Kill, County Kildare, Ireland.  to musical parents.
Liam O'Flynn was born into what he described as "a very definite thing." His father was a schoolmaster and fiddle player and his  mother, who played and taught piano, came from a family of famous musicians from Clare.
After a time on the tin whistle and a short period 'scraping' at a small violin, Liam finally got started on the uilleann pipes. He had an obvious gift for this most  complicated instrument, and was encouraged by all around him, notably by the Kildare piper Tom Armstrong. At the age of eleven, he received master-classes with Leo Rowsome.
In his teens, Liam and his pipes began to attend music sessions in the Kildare village of Prosperous. There, for the first time, he met many of the people with whom he would later make his name and tour the concert-halls of the world. These were musicians like Christy Moore, Donal Lunny and Andy Irvine with whom, in the early seventies, Liam formed the legendary folk band Planxty. One of Ireland's most important and influential groups, Planxty brought a style, innovation and 'cool' to Irish music which was to lead directly to the many Irish musical success stories during the decades that followed.
Behind the innovation and experimentation, Liam O'Flynn always managed to remain true to the great piping tradition. He took his instrument into previously unexplored territory – be it as a member of Planxty, as a soloist with an orchestra or working with artists as diverse as John Cage, The Everly Brothers, Van Morrison and Kate Bush.
Liam O'Flynn was one of Ireland's greatest musicians . He died March 14, 2018.
Discography:
Planxty (Polydor, 1973)
The Well Below the Valley, with Planxty (Polydor, 1973)
Cold Blow and the Rainy Night, with Planxty (Polydor, 1974)
The Planxty Collection (Polydor, 1974)
After The Break, with Planxty (Tara, 1979)
The Woman I Loved So Well, with Planxty (Tara, 1980)
Words and Music, with Planxty (WEA, 1983)
Liam O'Flynn (Tara Records, 1988)
The Fine Art of Piping (Tara Records, 1991)
Out to an Other Side (Tara Records, 1993)
The Given Note (Tara Records, 1995)
The Piper's Call (Tara Records, 1999)