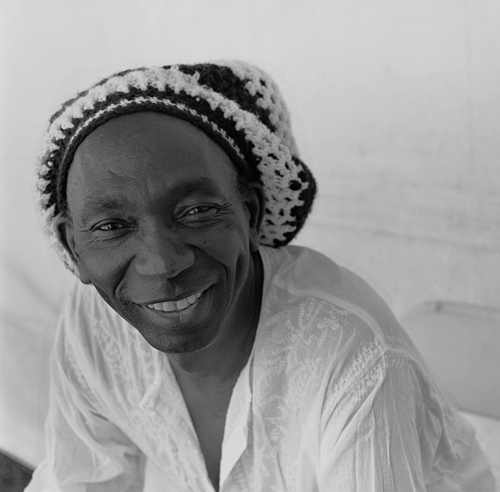 Dr. Thomas "Mukanya" Mapfumo became a star as Zimbabwe entered its revolution in the mid 1970s. His musical radio messages speaking out against political and social tyranny led to his arrest in 1979 by the white Rhodesian government. After his release from prison Thomas and his band performed at concerts celebrating the return of black rule in 198 ending decades of oppression. Thomas is a real voice of the people and remains a worldwide musical and political hero to the present day.
Thomas Tafirenyika Mukanya Mapfumo was born on July 2nd 1945 in the town of Marondera in Zimbabwe. He learned to play music at an early age. His mother was a talented musician and his grandparents would hold all-night parties featuring traditional instruments such as the drums and mbiras.
Thomas Mapfumo plays a style of music that is known as chimurenga. Chimurenga is a Shona word that means struggle. The term was invented by Mapfumo to describe a style of music that combined Shona roots music based on the mbira with modern instruments and his critical socio-political messages. He leads a large band called Black Unlimited.
In January of 2001 he moved temporarily to the United States. That same year he was given an honorary doctorate degree by Ohio State University (USA). Eventually the move to the United States became permanent. He now resides in Eugene, Oregon.
Discography:
Shumba (Earthworks, 1990)
Gwindingwi Rine Shumba (Chimurenga Music, 1981)
Mabasa (Chimurenga Music, 1983)
Ndangariro (Afro Soul, 1983)
Chimurenga For Justice (Rough Trade, 1985)
Mr Music (Africa) (Afro Soul, 1985)
Zimbabwe Mozambique (Chimurenga Music, 1988)
Chamunorwa (Chimurenga Music, 1989)
Varombo Kuvarombo (Chimurenga Music, 1989)
Corruption (Mango, 1989)
Chimurenga Masterpiece (Chimurenga Music, 1990)
Hondo (Chimurenga Music, 1991)
Chimurenga International (Chimurenga Music, 1993)
Roots Chimurenga (Chimurenga Music, 1996)
Chimurenga '98 (Anonymous Web Productions, 1998)
Live at El Rey (Anonymous Web Productions, 1999)
Chimurenga Explosion (Anonymous Web Productions, 2000)
Rise Up (Real World Records, 2006)
Live @ The Sanctuary for Independent Media (Chimurenga Music, 2016)