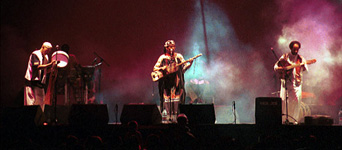 Abdeljalil Kodssi, Moulay M'Hamed Ennaji (a.k.a. "Sheriff"), Abdelkebir Bensaloum and Mohamed Bechar formed Nass Marrakech in 1991. All are members of Gnawa families or have intimate ties with the Gnawa community, and Abdelkebir is considered the youngest Gnawa maestro in Morocco.
Although they strived to preserve the traditions of their ancestors, Nass Marrakech were also modern Moroccan musicians, open and receptive to new musical experiences. Abdeljalil, for example, had toured with Don Cherry, and various other members of Nass Marrakech had worked with the Casablanca School of Jazz. They were all equally knowledgeable about Gnawa music and popular Moroccan sounds.
On "Sabil 'a 'Salaam," Nass Marrakech skillfully blended traditional pieces with new songs that connected with contemporary audiences. "An a, An ta" ("You and me") spoke about equality of rights. "Salaam Aleikum" addressed the need for peace, while "Allah" reflected an ecological idea of God. Traditional songs included "Yo Mala," a song which has existed for over 900 years and is performed in the ancient bambara language.
Nass Marrakech's sound mixed West African drums (jembes, sabar) with mandolin, Indian tabla, sentir (3-stringed bass lute) and the omnipresent karkabas (metallic castanets) to create a solid musical landscape over which the voices perform the traditional "call and response."
Discography:
Sabil 'A 'Salaam (Alula, 2000)
Bouderbala, with Omar Sosa & Jorge Pardo (World Village, 2001)
Dal vivo a "Suoni Migranti" (Suoni Migranti/ Materiali Sonori, 2005)