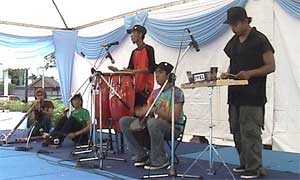 Started in 2004, the band, originally called TIK, performed in many places in Perak, northwestern Malaysia. The first members of the band, which are original line up for The Abonation, were Megat, Nicky and included Ap, as the sessionist then.
In December 2005 they moved to Kuala Lumpur to start a new journey there, and met with Sid and Iwan… making it a 5 piece band.. The sounds and rhytm of The Abonation, was created by every member of the band, with differences and variety of music influences, which were then, build and crafted in a harmonious tunes.
The Abonation started as a streetband and has played in many kinds of events and various venues in Kuala Lumpur, including hotels, cultural center, exhibitions, schools and "now, we're still playing on the streets, as some kind of exercise…"
Currently, The Abonation are still experimenting their sounds of the fusion music, combining the nusantara beats and rhythms, bringing it up to a new level, experimenting with the magic of music.
Discography:
Birth ‎(Al-Ameen Serve Holdings Sdn.Bhd.)