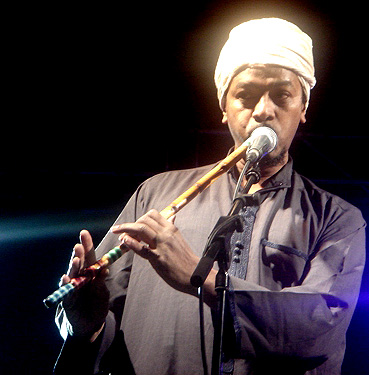 Madrid-based Wafir Sheikh al-Din Gibril is a talented multi-instrumentalist from Sudan. He's almost a living orchestra, gifted with an incredible musicianship. He plays ud, accordion, flute and violin.
Wafir was born in Kurdufan and studied at the Khartoum superior conservatory. He started playing accordion professionally with the bands of Abdul Aziz Almubarak, Mohammad Al Amin and Abdul Karm Al Kably.
Wafir was an occasional member of famed Spanish world music band Radio Tarifa and played also successfully with his won group Kambala for years. He was a member of La Banda Negra and has composed music for film, including the Spanish movie Finisterre.
Discography:
Jardín De Al-Andalus. Música Arabigo-Andaluza De La Sevilla Medieval ‎(Pneuma,1999)
Nilo Azul ‎(Nubenegra, 2002)
Sefarad En Diáspora ‎(Pneuma, 2005)