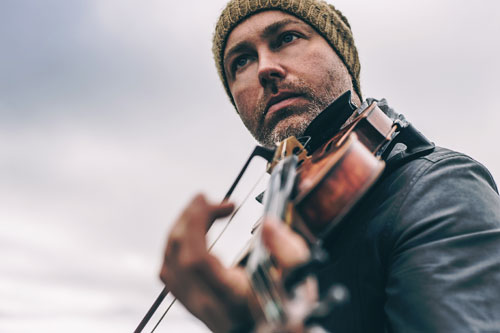 Aidan O'Rourke is a fiddle player and composer from Oban on the West Coast of Scotland. He has toured extensively in Europe and North America from the age of 15 and has made his name as one of Scotland's most expressive and dynamic musicians.
At 19, Aidan formed Tabache with Claire Mann and went on to record the internationally acclaimed album Waves of Rush. Aidan now performs with the hugely successful Blazin' Fiddles (Live Act of the Year 2004) and is a much sought after session musician, having performed on over dozens of albums ranging from Runrig to Michael McGoldrick and Karen Matheson.
Commissions have included a piece titled Mantra Alba which welcomed the Dalai Lama to Scotland.
Sirius is his first solo album which evolved from a commission by Celtic Connections in 2003.
Discography:
Are You Willing?, with Tabache (1996)
Waves of Rush, with Tabache (1999)
Live in Scotland, with The Unusual Suspects (2005)
Sirius (2006)
Lightweights and Gentlemen, with Lau (2007)
Live, with Lau (2008)
Arc Light, with Lau (2009)
An Tobar (Navigator Records, 2011)
Big Like This, with The Unusual Suspects (2011)
Race the Loser, with Lau (2012)
Hotline (2013)
The Bell That Never Rang, with Lau (2015)
Sleeper, with Kan (2015)