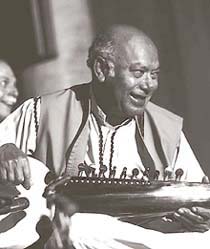 Maestro Ali Akbar Khan was a master of the sarod and founder and teacher at the Ali Akbar College of Music in San Rafael, California.
Born in 1922 in East Bengal (now Bangladesh), his family traced their gharana (ancestral tradition) to Mian Tansen, the 16th century musical marvel and court musician to Emperor Akbar. Ali Akbar Khan's father, the late Padma Vibhusan Acharya Dr. Allauddin Khan, was acknowledged as a leading figure in North Indian music in the 20th century.
Ali Akbar Khan, also known as Khansahib, began his studies in music at the age of three. He studied vocal music from his father and drums from his uncle, Fakir Aftabuddin. His father also trained him on several other instruments, but decided finally that had to concentrate on the sarod and on vocal.
For over twenty years, he trained and practiced 18 hours a day. After that, his father continued to teach Khansahib until he was over 100 years old, and left behind such a wealth of material that Khansahib feels he is still learning new things from it. Since his father's death in 1972, Khansahib has continued his father's tradition, that of the Sri Baba Allauddin Seni Gharana of Maihar and Rampur, India.
Ali Akbar Khan gave his first public performance in Prayagraj (formerly Allahabad) at age thirteen. In his early twenties, he made his first recording in Lucknow for the HMV label, and the following year, he became the court musician to the Maharaja of Jodhpur. He worked there for seven years until the Maharaja's death. The state of Jodhpur bestowed upon him his first title, that of Ustad, or Master Musician. Many years later, he received the title of Hathi Saropao and Dowari Tajeem at the Jodhpur Palace's Golden Jubilee Celebraton in 1993.
At the request of Yehudi Menuhin, Ali Akbar Khan first visited the United States in 1955. He made the first Western LP recording of Indian classical music, and the first television performance of Indian music, on Allistair Cooke's Omnibus, sowing the seed for the wave of popularity of Indian music in the 1960's.
Khansahib founded the Ali Akbar College of Music in Calcutta, India, in 1956. Later, recognizing the extraordinary interest and abilities of his Western students, he began teaching in the United States in 1965. In 1967, he founded the Ali Akbar College of Music, which moved to Marin County, California, the following year.
Khansahib also opened a branch of his college in Basel, Switzerland, run by his disciple Ken Zuckerman, where he taught yearly during his world tours. Ali Akbar Khan toured extensively in Asia, Europe, The Netherlands, Australia, Canada, and the United States.
Khansahib composed and recorded music for films throughout his career. He composed extensively in India beginning with "Aandhiyan" by Chetan Anand (1953) and went on to create music for "House Holder" by Ivory/Merchant (their first film), "Khudita Pashan" (or "Hungry Stone") for which he won the "Best Musician of the Year" award, "Devi" by Satyajit Ray, and, in America, "Little Buddha" by Bernardo Bertolucci.
1997 was a landmark year for Ali Akbar Khan. In February, he was the second recipient to receive the Asian Paints Shiromani Award – Hall of Fame, following filmmaker Satyajit Ray. He celebrated his 75th birthday in April and AACM's 30th anniversary in June. In August, the Indian Embassy requested Khansahib to perform at the United Nations in New York and at Kennedy Center in Washington DCboth performances were in celebration of the 50th year of India's Independence. In September, Ali Akbar Khan was chosen to receive the prestigious National Heritage Fellowship from the National Endowment for the Arts. It was presented by Mrs. Hillary Clinton at a ceremony in the White House.
In 1998, Maestro Khan was honored with the National Heritage Fellowship, presented to him at the White House.
He had eight sons and four daughters from three marriages. Six of his children and one grandson became musicians: Aashish Khan Debsharma (sarod), Dhyanesh Khan (1941–1990; sarod), Ameena Perrera (sitar), Pranesh Khan (tabla), Rajesh Khan (sarod), Alam Khan (sarod), Manik Khan (sarod); and his grandson, Shiraz Ali Khan (sarod).
Ali Akbar Khan died on June 18, 2009.
Partial discography:
Ali Akbar Khan releases numerous recordings. The list below includes a small selection of recordings currently available.
Traditional Music of India (Prestige)
Legacy: 16th-18th Century Music from India, with Asha Bosle (Ammp Records)
Emperor of Melody
Ragas (Fantasy Records)
Signature Series, Vol. 1 (Ammp Records)
Signature Series, Vol. 2 (Ammp Records)
Signature Series, Vol. 3 (Ammp Records)
Signature Series, Vol. 4 (Ammp Records)
Alap – a Sarod Solo (Ammp Records)
Signature Series, Vol. 5: Rag Darbari Kanada (Ammp Records)
Rough Guide To Ali Akbar Khan (World Music Network)
Morning Visions (Ammp Records)
Ustad Ali Akbar Khan – Sarod (Saregama)
Garden of Dreams (Triloka)