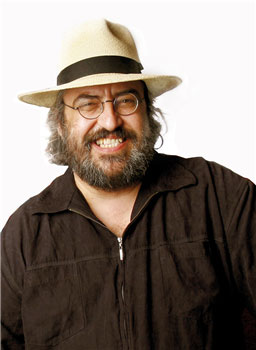 A talented singer-songwriter, versatile musician and consummate Epicurean, Yves Lambert is perhaps best known as a founding member of Quebecois folk supergroup La Bottine Souriante, with whom he played thousands of concerts and television appearances all over the world, from Quebec and the rest of Canada to the US, England, Scotland, Ireland, France, Spain, Italy, Denmark, Sweden and Finland.
La Bottine Souriante's 11 albums, in which Yves participated not only as a musician and vocalist but also as co-producer and researcher, have sold more than 500 000 copies worldwide (some going gold and platinum), and have won Felix Awards, Juno Awards and various other distinctions.
In 2002, he launched his solo career with the album Les vacances de M. Lambert (Mr. Lambert's Holiday). While remaining a leading figure in traditional Qu?becois music, he has sought to promote dialog with the music of other cultures the world over.
Discography:
Y'a ben du changement, with La Bottine Souriante (Mille Pattes Records, 1978)
Chic 'n Swell, with La Bottine Souriante (Green Linnet Records, 1982)
La Traversée de l'Atlantique, with La Bottine Souriante (Green Linnet Records, 1986)
Tout comme au jour de l'an, with La Bottine Souriante (Mille Pattes Records, 1987)
La Mistrine, with La Bottine Souriante (1994)
Les Vacances De Monsieur Lambert (Mille-Pattes, 1998)
Récidive ‎(La Pruche Libre Productions, 2004)
Le Monde À Lambert ‎(La Pruche Libre Productions, 2007)
Bal À L'Huile ‎(La Pruche Libre Productions, 2009)
Trio (2012)
Lambert dans ses bottines avec Socalled (Disques Musicor, 2015)
Laissez courir les chiens (La Prûche Libre, 2015)