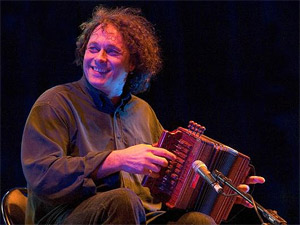 Bursting with energy, musician-dancer Benoit Bourque has been conquering audiences for the past years. Performing first as a member of the famed ensemble Eritage, with whom he toured all over the continent, he made five recordings (three for children), and appeared with the group on TV and radio. Eritage had its own television program for three years in Quebec City. Benoit later became known as a dancer, choreographer, and teacher in numerous festivals and music camps at home and abroad. As a member of Eritage, and then by himself, Benoit has presented many workshops for children, in elementary as well as high schools, and even in nursery schools. From two to teens, he bewitches them all.
Benoit recorded La Gigue, a cassette and book especially made for learning French Canadian step dancing. Since 1980, Benoit has been the artistic director of Les ?clusiers de Lachine, a folkdance group that has gained international acclaim. He is also one of the founders of Le Carrefour Mondial de l'Accordeon, an international accordion festival where he acts as artistic adviser, master of ceremonies, and performer.
From 1993 to 1994, Benoit was on the Board of Directors of Le Conseil Quebecois du Patrimoine Vivant (The Live Heritage of Quebec Council). From 1994 to 1996 he performed with the new French folk music ensemble Ad Vielle Que Pourra, touring with them all over Canada and the United States. Although Benoit specializes in dancing, "Calling" dances, and traditional percussion playing (bones and spoons), he plays other instruments, including guitar, recorder, mandolin and accordion.
Benoit was a founding member of Matapat. The other founders were Acadian born Gaston Bernard, a multi-instrumentalist who is equally facile on mandolin, fiddle, guitar and bouzouki and has been involved in a variety of musical projects, ranging from French to Greek, Celtic and African music. Composer/arranger Simon Lepage added his diverse background in world music, jazz and classical as a rich compliment to the band's unique presence on the stage. All three harmonized beautifully on songs and ballads, all introduced in English and sung in French. Benoit and Gaston were former members of the renowned band Ad Vielle Que Pourra.
Benoit left Matapat in 2002 to join Le Vent du Nord, an innovative Quebecois band founded by pianist and hurdy-gurdy player Nicolas Boulerice and fiddler Olivier Demers, (both formerly of Ad Vielle Que Pourra and Montcorbier).
Discography:
La Ronde des Voyageurs, with Éritage (1983)
Ménage À Quatre, with Advielle que Pourra (1996)
Matapat (1998)
Petit Fou, with Matapat (Borealis, 2001)
Maudite Moisson, with Le Vent du Nord (Borealis, 2003)
Les amants du Saint-Laurent, with Le Vent du Nord (Borealis, 2005)
Appellation d'Origine Controlee, with La Bottine Souriante (Borealis, 2011)