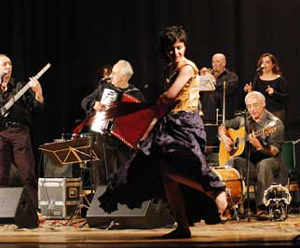 Formed in the late seventies in southern Italy by a group of researchers and performers of Italian traditional music, Musicalia earned the respect of fans and critics thanks to the artistic and organizational efforts of the two brothers Amerigo and Marcello Ciervo who celebrated their 30th anniversary in 2005.
Their twofold original project has not changed from the group's earliest years to the present, based on the combination of extensive and careful research into the local musical tradition of the Sannio, a historical area in the inner province of Benevento in Campania, with new sounds and textures.
Considered a workshop of creative reading of the local folklore whose horizon is contemporary music, Musicalia still have a lot to say. Their members work in schools where they frequently hold music and drama workshops on folk traditions, carry out their research into archives as well as through fieldwork on local , write books, give concerts and perform on stage, release CDs and take part in TV shows and radio broadcasts.
Amerigo Ciervo & Marcello Ciervo – voices, guitars, organetto, mandoloncello, accordion, bouzouki, tammorra a pedale, tammorra, percussions, etc.
and Fabio Crisci – chitarrone, double bass, voice; Gina Leo – castanet, voice; Michele Iuliano – violin; Elisabetta Landi – tammorra, darbuka, voice; Mario Parente – trombone, flugelhorn, keyboard
Corrado Ciervo – tammorra, percussion; Antonella Noviello – voice