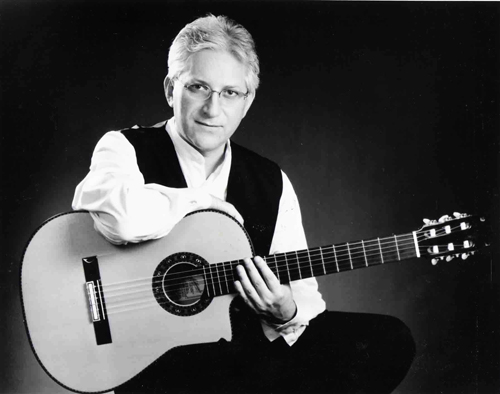 For over 20 years, guitarist Sergio Lara has been respected in acoustic contemporary instrumental music. His last recording with Lara & Reyes, World Jazz, received a "Latin Grammy Award" nomination for "Best Instrumental Pop Album" in 2001.
Perhaps better known as the founder and leader of the Latin guitar duo Lara & Reyes, Sergio has explored a great variety of styles that show his eclectic taste. During his collaboration with Lara & Reyes, which included 6 albums recorded for the Higher Octave Music label, they adapted musical traditions from all over the world, with rhythms from Africa and the Caribbean, chord structures from Mexico and Spain, and melodic scales from the Middle East and India, but always with an original stamp, that is basically the Latin guitar within the spirit of improvisation.
Sergio has played different styles, including Jazz, Bluegrass and Flamenco as well as several fusion forms. His music belongs to what is known as Latin Jazz and Flamenco Jazz.
Sergio Lara appears in the international music scene in 1983 with the release of his first solo album entitled Sergiology. In this album he explores various styles influenced by Jazz and Bluegrass. During the following years he participated and collaborated with various artists in Mexico and also with his own band the "New Acoustic Unit" in Nashville, Tennessee, and San Antonio, Texas, and in 1994 released the album Guitarras Hermanas, the first one for Higher Octave Music. This album of all original music, also included a new instrumental version of the very popular and romantic song "Sabor a Mi".
Sergio Lara was born in Mexico City. He started playing guitar at age nine and very early he discovered and began studying several musical styles. His greatest influences have been the great English Jazz guitarist, John McLaughlin; Costa Rican guitar master, Jorge Strunz; Flamenco Spanish genius, Paco de Lucia; Bluegrass and Jazz guitarist, Tony Rice, the great guitarist Norman Blake, and eclectic mandolin players Sam Bush and David Grisman, among others.
In 1996, Sergio released his next production entitled Two Guitars-One Passion, which received worldwide attention because of its original combination of different musical styles. This album included an instrumental version of the well-known Mexican classic "La Bikina," which is still very popular on many Jazz radio programs around the world.
His next project was in 1997 with the album Exotico, which incorporated different instruments for the first time, like the piano, flute, sax and violin, making a new mixture of sounds with his guitar. With mostly original compositions this album also includes new instrumental versions of the classic "Mi Ciudad" and the standard "Brazil".
In 1998, with the album Riverwalk, he gave a twist in regard to his compositions creating new rhythms and melodies. This record includes a medley of 2 wonderful romantic Latin songs, "Solamente una Vez" and "Amor, Amor, Amor," and in the year 2000, in celebration of the millennium he released Navidad, on which he enters fully into the music of the Christmas season, playing new instrumental versions of 18 standard songs, incorporating the mandolin with the guitar.
In 2004, Sergio Lara immersed himself in several new productions. He recorded 2 new albums for his independent label Fusion Acustica Music." The first one, a CD of new original instrumental music entitled Con la Lluvia, which includes a new version of the haunting traditional song "La Llorona." The second project is a collection of traditional folk songs from Mexico and the United States, entitled Entre Guitarras y Mandolinas, performed by Sergio playing all the guitars, mandolin and 5 string banjo. In addition, this album also includes vintage recordings, rescued from Sergio's personal archives, of traditional Mexican songs performed in a bluegrass style by Sergio playing the mandolin and guitar, joined by members of the Tennessee Valley Authority, a well known and respected bluegrass band from San Antonio, Texas.
With a career that covers many years and more than ten albums under his name, Sergio Lara has appeared in several concerts and participated in important festivals.
Discography
Guitarras Hermanas (1995)
Two Guitars One Passion (Talking Taco Records, 1992)
Exotico (Higher Octave Music, 1996)
Riverwalk ‎(Higher Octave Music, 1998)
Navidad (Higher Octave Music, 2000)
World Jazz (Higher Octave Music, 2000)
Con La Lluvia (Fusion Acustica, 2004)