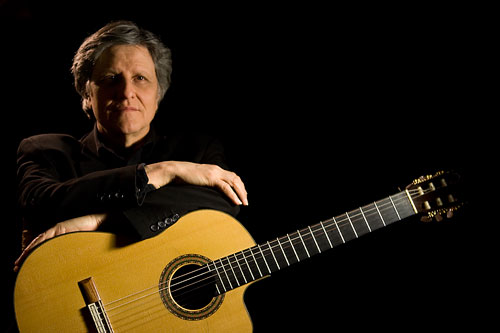 Jorge Strunz was born in Costa Rica and was given his first guitar at age 6. He began performing professionally in their early teens.
The travels of his diplomat father brought Jorge to the United States. In the mid-1970s, Strunz formed a Latin jazz group called Caldera, together with Argentine keyboardist Eduardo del Barrio. Caldera signed with Capitol Records and recorded as self-titled debut album. Caldera was offered another recording with Capitol, but the band was not happy with the label and had interest from CBS. They left Capitol but the deal with CBS fell through. The group disbanded in 1979.
Fortune and music brought Jorge Strunz and Ardeshir Farah together, when fellow guitarist Ardeshir came to see Jorge perform with Caldera. When the two guitarists subsequently met, it was instantly obvious that they were brothers of the guitar from opposite ends of the earth. They quickly prepared a repertoire, began performing, and recorded their first project, Mosaico, in 1980, under the name Strunz & Farah.
Although record companies at that time were not yet ready for this new hybrid music, jazz radio embraced it enthusiastically, and the duo caught the attention of Milestone that released two of the duo's CDs in the early 1980s, 'Frontera' and 'Guitarras'.
The intimate audiophile recording Misterio was commissioned and recorded by Waterlily Acoustics in 1989. Following this came the phenomenally successful recordings Primal Magic (1990) and Americas (1992) on Mesa/Atlantic, which won Billboard's World Music Album of the Year and a Grammy nomination, respectively. The artists then started their own record company, Selva, as an artist-friendly alternative to the majors and put out Heat of the Sun, (top 10 Billboard World Music chart) and Live, the artists' first live performance recording. Strunz &Farah received back the rights to Primal Magic and Americas, which were re-released on Selva, which the artists will own and distribute independently.
In 2010, Jorge Strunz released an excellent acoustic guitar solo album titled Neotropical Nocturnes.
Solo Albums
Neotropical Nocturnes (Selva, 2010)
Strunz and Farah Discography:
Mosaico (1982, Reissued on Selva 1997)
Frontera (Milestone 1984)
Guitarras (Milestone 1985)
Misterio (AudioQuest 1989)
Primal Magic (1990, Reissued on Selva 1999)
Americas (1992 Reissued on Selva 1999)
Heat Of The Sun (Selva 1995)
Live (Selva 1997)
Wild Muse (Selva 1998)
Best of Strunz &Farah (Selva 2000)
Stringweave (Selva 2001)
Rio de Colores (Selva 2003)
Zona Torrida (Selva 2004)
Desert Guitars (Selva 2005)
Jungle Guitars (Selva 2006)
Fantaseo (Selva 2006)
Journey Around The Sun (Selva 2011)
Moods and Visions (Selva 2014)
DVD
In Performance (2003)