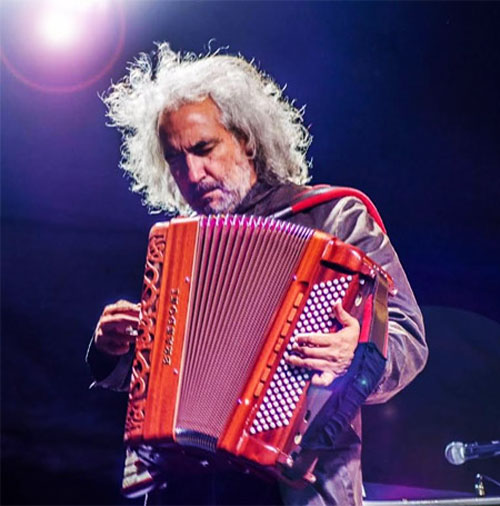 An intense desire to experiment has led Manuel Obregón down the paths of theater, cinema, and dance. Jazz has been his platform for musical ideas, and the best vehicle for connecting with nature and with traditional musicians.
Simbiosis and the Papaya Orchestra are two of Obregón's greatest achievements in a career replete with concerts in Europe and America, research, recordings and the creation of the Papaya Music label.
Born in San José, Costa Rica, on October 4, 1961, Obregón began playing piano at the age of seven. After graduating from the University of Costa Rica Conservatory, he went on to study at the Real Conservatorio Superior de Música de Madrid; in Barcelona, Spain; and at the Swiss Jazz School in Berne, Switzerland.
Obregón has been successful at achieving a synthesis between academic formation, tradition and experimentation, an evolution that can be traced in his 14 solo recordings and in the various music groups he has formed, including Afro Cosmos, Cahuita, the Sporadic Jazz Quintet, Gospel Caribe, Orquesta de la Papaya and Malpais.
His introduction to international acclaim, the DVD production of Simbiosis with images by moviemaker José Cortés (2004) creates a profound impact, both as video and as live concerts in which Obregón's piano appears in the midst of the forest.
Discography:
Solo:
Piano solo (1992)
Concierto del Farolito (1993)
Sortilegio (1994)
Piano y Ángel Ausente (1995)
Sin Ton ni Son (1996)
Pasión (1997)
Simbiosis (1999)
La isla de la Pasión (1999)
Génesis (2000)
OM (2001)
Tierra Seca (2003)
Concierto Tributo a Mangoré (2005)
Leyendas del Calipso Limonense (2006)
Trance Submarino (2007)
Piano Malango (2008)
Estampas de Abril y Mayo (2010)
Asia, África y América (2011)
Simbiosis, piano y bosque tropical seco (2011)
Paz (2015)
Turrialba 1920s (2017)
Ícaros (2018)
Malpaís:
Uno (Papaya Music, 2002)
Historias de nadie (Papaya Music, 2004)
Malpaís en vivo (Papaya Music, 2006)
Un día lejano (Papaya Music, 2009)
La canción de Adán (2009)
Hay niños aquí (Papaya Music, 2010)
Volver a casa (2011)
Orquesta de la Papaya:
Manuel Obregón y la Orquesta de la Papaya (2002)
Tierra de la dulce espera (2005)