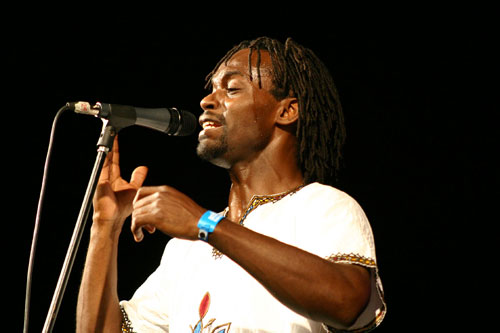 Absalom Nyinza, popularly Abbi, Abbi is one of Kenya's finest Afro-fusionist, who launched his second album Indigo in August 2007.
With roots in Kenyan people's traditional instruments and tunes, he fuses contemporary instruments from the world today, such as West-African jembe, kora along with piano, violin, sax, flute, bass, guitars and drums. Abbi takes his Kenyan beats into a newness, experimenting with other genres as salsa, jazz, reggae, and pop. Furthermore, he likes mixing different languages and sings in both English, Swahili, Luhya (his mother-tongue), French, Luo and Maasai. His music has taken him on tours and festival-performances several times such as the North Sea Jazz and Mundial festival.
Abbi began his musical career in 1993 as an a cappella singer, and ventured into Afro-fusion some years later. His first solo-album came out in 2003 titled Mudunia? This album lead to two Kisima-awards for Best Male Artist and Most Promising Artist.
Discography:
Mudunia (2003)
Indigo (2007)