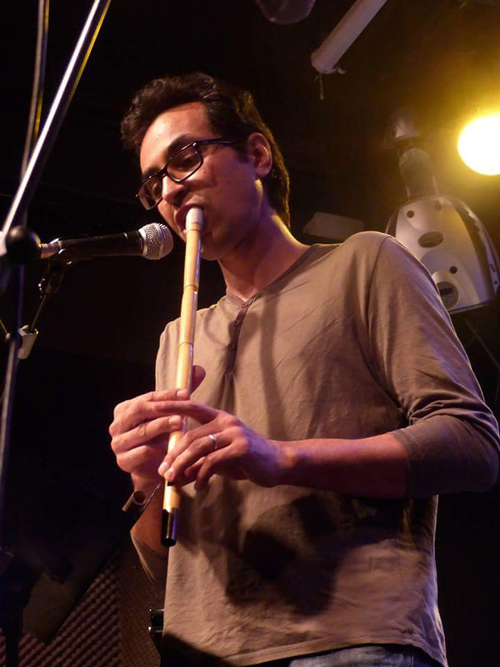 Musician and composer Kaveh Sarvarian was born in Tehran, Iran in 1976. He has a Master of Composition, University of Art of Tehran.
Throughout his long career, he has performed in different countries. In Iran he was a member of the Tehran Symphony Orchestra (transverse flute), Rastak Ensemble (folk wind instruments), Naima Persian Jazz Fusion (flute, ney, tombak).
He was a professor at the University of Art of Tehran, in the Department of Music and Composition. Kaveh moved to Madrid, Spain around 2010. He presently directs the Parsinava ensemble where he delves into jazz sonorities within traditional Persian music.
Kaveh co-directs Kereshmeh, along with dancer Patricia Álvarez. It is a groundbreaking project based on the compositions of his album titled Kereshmeh, where they explore folk languages incorporated into a contemporary scenic concept.
In addition to Parsinava ensemble and Kereshmeh, Kaveh also participates in various other music ensembles and projects: Darawish (Arabic-Mediterranean fusion music), The Silk Road, Capella de Ministrers and Carles Magraner, Eduardo Paniagua.
He also is the author of three instructive books, "The Comprehensive Method of Ney ", " Persian Music Ornamentation for Ney" , and" Tombak Method ".
Kaveh lives in Madrid, Spain where he gives online Persian music lessons on Skype and works on his musical projects.
His recordings include Parisan (Quartets for Ney), Persian Rug (Flute duo and piano), Avareh (Jazz fusion), Ofogh, Sonido del oriente (Persian music on a trip to Spain) and Kereshmeh (new perspective of Persian music).
Discography:
Persian Rug, with Hamzeh Yeganeh (2014)
Parisan (2014)
Avareh, with Hamzeh Yeganeh (2014)
Moonlight Sky (2014)
Ofogh (2014)
Sonido del oriente (2015)
Kereshmeh – Nueva perspectiva de música persa (2019)