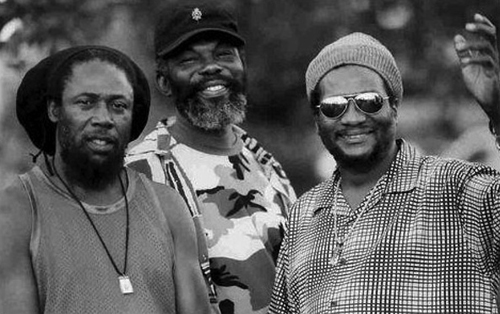 Ansel Cridland, Danny Clarke and Winston Watson collectively known as The Meditations, recorded their first hit single "Woman is Like a Shadow" in 1974 at Channel One Recording Studio; followed by "Tricked", "Babylon Trap Them", "Woman Plabba" and "Running from Jamaica" which were included on their first album Message from the Meditations produced by Dobby Dobson.
Among other album were Wake Up, Guidance, No More Friend, For The Good of Man, The Return of The Meditations and Ghetto Knowledge. The group's vocal and harmony style captured the hearts of reggae fans around the world and led to the collaboration of work with Lee "Scratch" Perry. Scratch, who produced for Bob Marley and the Wailers, asked them to do back up vocals for "Punky Reggae Party", featuring Bob on lead vocals.
Bob Marley was so pleased with their harmony that he went in search for the group to do more back up vocals for him. He found Danny Clarke, one of the group's member, and put him in a taxicab and said, "Me nuh wan you (don't) come back 'til you find the other two member". The taxi driver drove Danny to all the studios in Kingston and could not find the other members, until they drove to "Idlers Rest", a street where all musicians and singers mostly hang out.
When Danny saw Ansel and gave him the news that Bob Marley wanted the group to do back up vocals for him, Ansel thought it was a joke. Still, he and Winston joined Danny in the taxi, which took them to the studio where they added their vocals to "Rastaman Live Up" and "Blackman Redemption".
The Meditations did back up vocals on songs for other artists like, Jimmy Cliff's hit "Bongoman", "Youths" Them A Cry"; Gregory Isaacs' "Mr. Cop" and several songs with Junior Marvin and other reggae artists.
Discography
Message From The Meditations (Wild Flower, 1977)
Wake Up (Double-D, 1978)
Guidance (Tad's/Guidance, 1979)
No More Friend (Greensleeves, 1983)
For The Good of Man (Greensleeves, 1988)
Return of The Meditations (Sonic Sounds/Heartbeat, 1993)
Ghetto Knowledge (Easy Star, 1999)
I Love Jah (Wackies, 2002)
Stand In Love (2Good , 2004)
Jah Always Find a Way (2015)