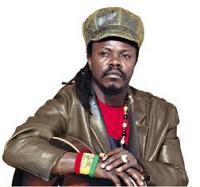 In 1995, Luciano signaled the arrival of a new reggae star that could touch all segments of the reggae market. Vocally, he drew from the styles of Dennis Brown and Frankie Paul, while lyrically much of his work was spiritual. Since then, Luciano has won an international fan-base while still managing to maintain grass-roots popularity in Jamaica.
Luciano was born Jepther McClymont in 1964 in Manchester, Jamaica. He moved to Kingston in the early 1990s but his recording efforts for such producers as Castro Brown and Freddie McGregor did not meet with success and he was forced to retreat to his hometown.
When he returned to Kingston in 1994, it was with great seriousness and purpose. He acquired the "Luciano" name because his vocal prowess had an operatic vibe, according to some. An association with Exterminator Records led to his breakthrough hit, "It's Me Again Jah," on that label. Soon thereafter, he was signed internationally to Island Records and a string of Exterminator-produced hits solidified Luciano's reputation as the new reggae prince. He began touring internationally and proved capable of delivering a riveting live show.
In the next few years, he recorded many examples of the new "rasta consciousness" in music, often anchored by deadly rhythms created by Sly & Robbie and the Firehouse Crew. In 1998, he collaborated with Senegalese superstar Baaba Maal on "Africans Unite" from Baaba Maal's Nomads album and also performed with him at the Air Jamaica Jazz and Blues Festival.
In the early 1990s, he went through a period of withdrawal and regeneration, emerging with another spate of best-selling albums and singles in 1992-1993.
His 2004 album, Lessons Of Life, is the result of his work with Lynford "Fatta" Marshall of Fat Eyes Production who produced one of Luciano's finest singles, "Real Rastaman." The production harkens back to reggae's glory days with the rhythm tracks built by live musicians rather than computers-and it's an all-star line-up of musicians featuring the likes of Sly Dunbar, Robbie Shakespeare, Steely & Clevie Dean Eraser, Clive Hunt, Robbie Lyn, Dwight Pickney and more. There is a duet with Nadine Sutherland (whose song "Action" was one of the biggest reggae hits of the past decade) and a re-make of Dennis Browns classic "Sitting & Watching."
Other highlights on Lessons of Life Include the sharp social commentary of "Step Right In" and "Take A Sip." But this album also mark Luciano's return to love songs, which were a part of his mix in his early years of recording but were de-emphasized for several years. Such songs as "Sweetness," "Love Is The Future" and "Love Affair provide a welcome diversity both lyrically and musically.
Discography:
Moving Up (Xterminator, 1993)
Shake It Up Tonight (Big Ship, 1993)
Stuck On U ‎(Sky High, 1993)
One Way Ticket (VP Records, 1994)
Back To Africa (Jet Star Records, 1994)
Don't Get Crazy (Sky High, 1994)
After All (VP Records, 1995)
Messenger (XTerminator, 1995)
Where There Is Life (XTerminator, 1995)
Sweep Over My Soul (VP Records, 1999)
3 Wise Men Love, Peace And Consciousness (J&D Records, 1999)
Wisdom, Knowledge & Overstanding (J&D Records, 2000)
Live ‎(VP Records, 2000)
We Three Kings (Artists Only! Records, 2001)
A New Day (VP Records, 2001)
Gideon (Vizion Sounds Records, 2001)
Great Controversy (Jet Star Records, 2001)
Three Wise Man Volume II (J&D Records, 2001)
They Cant Stop This ‎(Tallas Recording Studio, 2002)
We 3 Kings ‎(Nocturne, 2002)
Tell It From The Heart (Minor 7 Flat 5, 2003)
Serve Jah (VP Records, 2003)
Visions (Charm, 2003)
Live In San Francisco ‎(2B1 Records, 2003)
Jah Warrior (Penitentiary Records, 2004)
Serious Times (VP Records, 2004)
Call On Jah (Rude Boy Records, 2004)
Lessons Of Life ‎(Shanachie, 2004)
Jah Words (RAS Records, 2005)
Upright (Kingston Records, 2005)
Hail The Comforter (Charm, 2005)
Jah Warrior III (Penitentiary Records, 2005)
Child Of A King (VP Records, 2006)
Now And Forever (Mighty Man Music, 2006)
Revelation Time ‎(Charm, 2006)
God Is Greater Than Man (Cou$ins Records, 2007)
Friends For Life (Don One, 2007)
Jah Is My Navigator (VP Records, 2008)
Write My Name ‎(Footprintz Music, 2009)
United States Of Africa ‎(VP Records, 2010)
Reggae Music ‎(Ya-Low Production, 2011)
Rub-A-Dub Market (Irievibrations Records, 2011)
The Qabalah Man (2013)
Deliverance – Mad Professor Dub Showcase (Ariwa, 2014)
Zion Awake ‎(Jamstyle Records, 2014)
Reggae Legends ‎(VP Records, 2015)
Dub Showcase At Ariwa Sounds ‎(Ariwa, 2015