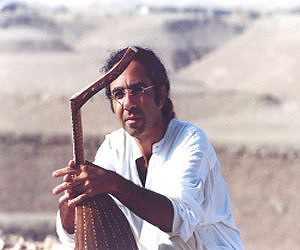 Yair Dalal, composer, violinist and oud player is probably the most prolific Israeli ethnic musician today.Over the last decade he has put nine albums, covering wide and varied cultural territory. Much of Dalal's output reflects the strong affinity he has for the desert and its inhabitants. Dalal's family came to Israel from Baghdad and he has included much Iraqi material in his work to date.
Whether working on his own, or with his Alol ensemble, Dalal creates new Middle Eastern music by interweaving the traditions of Iraqi and Jewish Arabic music with a range of influences originating from such diverse cultural milieus as the Balkans to India. The evocative compositions comprise a unique and colorful sound. Dalal's musicianship is truly independent of time or trends. His work is enhanced by the polished skills of his colleagues in the Alol ensemble who imbue the music with different ethnic backgrounds, playing instruments from the Middle East and Asia – including numerous Arabic percussion instruments, tabla, sitar, flute, clarinet, lyre and saz – and invoking Iraqi, Moroccan, Persian and even Bedouin singing styles.
Yair Dalal performs different repertoires, including classical Jewish Arabic music and material that draws on Babylonian traditions. He is one of a handful of artists who preserve and sustain the Babylonian musical heritage. The wonderful Jewish Iraqi musicians who emigrated from Iraq to Israel in the 1950s, from whom Dalal learned much of his craft, have either passed away or are very old.
Dalal also uses his extensive array of skills to span musical genres in performing his own compositions rooted in this musical tradition and inspired by the desert. Living in such a rich multicultural society, such as Israel, has imbued his art with the musical treasures of numerous cultural heritages.
During the past years he has collaborated with top musicians from all over the globe, from different disciplines, including celebrated western classical conductor and Maestro Zubin Mehta, Israeli Chamber Orchestra and Doron Solomon, Jordi Savall and member of Hesperion XXI, L. Shankar, Hamza el Din, Michel Bismuth, Ken Zuckerman, Armand Aamar, Shlomo Mintz, Cihat Askin ,Maurice el Medioni and Mustafa Raza, Ensemble Kaboul, Adel Salameh, The Oslo Philharmonic Orchestra, Jerusalem Kamerata Orchestra and more. He participates and lectures in Keshet Eilon-Violin workshops, ISME -Music Education, European Network for Traditional Music and Dance, Mendocino Middle East Music Camp USA and initiator of Mediterranean Musical Dialogue in Israel.
Yair Dalal is a peace activist in all means; besides his musical endeavors, he devotes much time and energy to helping to remove ideological barriers between people and musicians from different cultures and, in particular between Jews and Arabs. He is collaborating with Palestinian musicians from the Middle East and has initiated and formed many peace projects such as: Shalom Salaam concert in 1994, Key Note Circle for Peace and performance and CD recordings Music Channel and performing at the Nobel Peace Prize gala concert in Oslo 1994.
Discography:
Al Ol (Al Sur, 1996)
Samar (Magda, 1997)
Silan (Amiata, 1998)
Azame (Magda, 1999)
Diáspora Sefardí – Romances & Música Instrumental ‎(Alia Vox, 1999)
Shacharut (Magda, 2000)
Perfume Road (Magda, 2001)
Yair Dalal (Magda, 2002)
Asmar ‎(Magda, 2002)
One ‎(Magda, 2003)
Silan (Magda, 2006)
Inshalla Shalom: Live in Jerusalem (Magda, 2006)
Band Orient ‎(Magda, 2008)
Istanbul «Le Livre De La Science De La Musique» Et Les Traditions Musicales Sépharades Et Arméniennes ‎(Alia Vox, 2009)
…And You Love… ‎(Magda, 2011)
Israel in Egypt: From Slavery to Freedom (Capriccio Records, 2012)