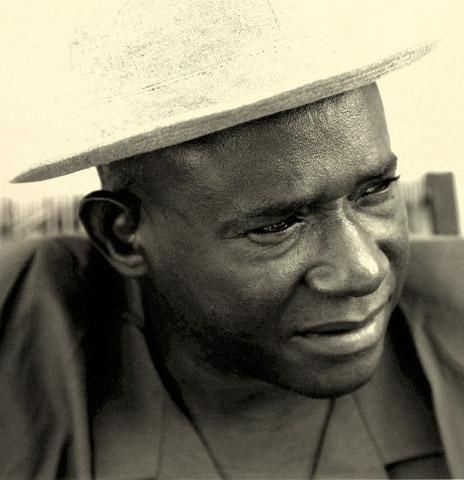 Kassé Mady Diabaté was one of West Africa's greatest voices and one of the most cherished singers in Mali. He was known for his profound knowledge of Mali's deepest oral and musical traditions and the beauty of his tenor voice.
He was born in 1949 in Kela, a renowned center of the Mande jeli tradition in western Mali, near Kangaba, one of the seats of the great Mali empire (1235-1469). 
Kasse Mady's family, the Diabates of Kela -all of whom are jelis- were the singers for the emperors and their descendants, the royal Keita lineage.  And still today they are considered among the most important and authoritative jeli families across seven West African countries where Mande culture predominates.
Kasse Mady was the second person ever to be given the name Kasse Mady, which means 'Weep Mady'  (Mady is a regional variant of Mohammed).  His grandfather, also from Kela, was the first.
Mady, the grandfather, had such a beautiful voice that when he sang, he would move people to tears, therefore his nickname, 'Kasse from Kassi,' (to weep).  Kasse Mady the younger was given this name at birth to honor the grandfather.  But no one in the family could imagine that his voice would have the same power and ability to move people to extreme states of emotion.
While still a young boy, Kasse Mady began singing at local weddings and other ceremonies, and around 1970 he was invited to become the lead singer of the dance orchestra of the nearby town of Kangaba.  This orchestra was called the Super Mande, a name his brother Lafia Diabate, also a well-known singer, now uses for his own band of Kela musicians who are based in Bamako and who are the principal musicians on the album Kassi Kasse.
The decade of 1970s was an important period in Mali because of the new Cultural Authenticity policies that was in place in the newly independent nation states of West Africa.  In Mali, as elsewhere, musicians were encouraged to return to their own folklore instead of imitating rock or Cuban music.  As it happened, Kasse Mady's special blend of traditional Mande folklore with modern instruments was to play an important role in this movement.
Every two years, the Malian government sponsored a major festival call the Biennale, in which all the regional ensembles and dance orchestras competed with each other.  In 1973, it was the Super Mande from Kangaba who won, thanks to the remarkable singing of Kasse Mady.
Not long before that, a group of eight musicians who had been studying music in Cuba had returned to Mali and formed the group Las Maravillas de Mali, famous for their charanga interpretations of Cuban classics.  But according to the dictates of Cultural Authenticity, they had to begin to take on more of a Malian repertoire.  After hearing Kasse Mady perform at the Biennale, they decided that he was the one to do this.
The musical director was sent down to Kela, 104 kms west of Bamako down a bumpy dirt road, to find the singer.  After various ritual consultations with the family, who were (and still are) very protective of their traditions, Kasse Mady was allowed to go to join the band in Bamako. Soon after, the Maravillas began enjoying a tremendous success throughout West Africa with songs like 'Balomina Mwanga' and 'Maimouna,' all sung memorably by the young Kasse Mady in Cuban style, but with a new Mande touch. 
Around 1976 the band renamed themselves National Badema du Mali (meaning national family of Mali). Kasse Mady launched this new lineup with several deep Mande songs that were to become hits, such as 'Sindiya (later re-recorded by Ali Farka Toure as 'Singya' on his first World Circuit album) and 'Fode' that was also the title of Kasse's first solo album in 1988.  Other hits were 'Nama,' a song Kasse Mady composed about a true story of a canoe that overturned while crossing the river Niger on September 22 in which many people drowned and 'Guede' that he later re-recorded with american bluesman Taj Mahal.
  
By the mid 1980s, there was no longer much interest among Malian audiences in the old dance bands of the 1970s.  The Rail Band was playing to ever decreasing audiences, and the Ambassadeurs, formerly led by singer Salif Keita, had disbanded.
So when Kasse Mady was invited to Paris to record his first solo album for Senegalese producer Ibrahima Sylla (of Africando fame), Kasse decided to try his luck. He left the national Badema and moved to Paris, where he spent the next ten years. During this period he recorded two solo albums, Fode, an electric dance album that was meant to be the answer to Salif Keita's Soro but did not enjoy the same promotion; and Kela Tradition, an acoustic album of Kela jeli songs, both on the Paris label Syllart. 
Also in this period, Kasse Mady collaborated in the album Songhai 2 with Spanish flamenco group Ketama and Malian kora player Toumani Diabate, with some stunning versions of classics such as 'Mali Sajio,' as well as, the beautiful ballad 'Pozo del Deseo' sung together with Ketama singer Antonio Carmona.
But things did not turn out as planned in Paris. Kasse Mady's non-confrontational and peaceful character did not help him find his way through the labyrinth of royalty payments and contracts and the hard-nosed music business of Paris. 
Exploited and disappointed, he returned to Bamako in 1998 where things began to look up for him.  The music scene in Bamako had picked up considerably since he had left ten years before. For a start, there was now a new democratic government and a renewed interest among the youth in traditional music. 
The kora player Toumani Diabate immediately recruited Kasse Mady for more collaboration after the successful work they had done together on Songhai 2.  Kasse Mady was invited to take part in the acclaimed Kulanjan project with Taj Mahal.  Taj was so moved by Kasse's singing that he presented him with a beautiful steel-body guitar and now, having heard the new album Kassi Kasse, is so entranced by it that he takes it with him everywhere he goes on his extensive concert tours.
in 2010, Kasse Mady participated in the landmark Afrocubism project, a spectacular collaboration of musicians from Mali and Cuba. the lineup featured Eliades Ochoa, Bassekou Kouyate, Djelimady Tounkara, Toumani Diabaté, Grupo Patria, Kasse Mady Diabaté and Lassana Diabaté.
Kassé Mady Diabaté died May 25, 2018 in Bamako.
Discography
* Fode (Syllart)
* Kela Tradition (Syllart)
* Songhai 2 (Hannibal, 1994)
* Kulanjan (Hannibal, 1999)
* Kassi Kasse (Narada, 2003)
* Manden Djeli Kan (Wrasse Records, 2009)
* Afrocubism (World Circuit, 2010)
* Kiriké – Horse's saddle (No Format!, 2014)