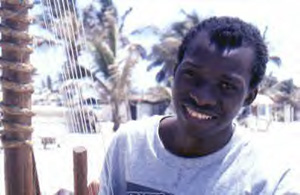 Dembo Jobarteh was a member of a well know jeli family (known as Jobarteh in Gambia and Diabate in Mali). His father played the kora and his mother was a griot [jali] singer. Dembo was born in 1976 in Niani Kayai, The Gambia.
From an early age on he was taught to sing and play the kora, a harp lute. Later he also learned to drum and play bala. He spent a few years as a musician in Dakar, Senegal.
In 2001 he became the manager of Gambian Griot School of Music and Dance at Serekunda, The Gambia.
Dembo Jobarteh said. "For generations my family has held this profession. I myself started reciting stories when I was 9 years old. At that time I came to live with a marabu, a very wise and well-respected man. There I studied the Koran, music and worked in the groundnut and rice paddies. After three years I moved to another village and another job. Later I worked at a bakery. But no matter what I was doing, my musical training continued. I learned hundreds of songs and also studied the drums, balafon [bala] and singing.
Many people can learn to play the kora. But to play like a griot [jali] is a gift from God and, as we say in West Africa, also a gift from the devils. If they like you, they will teach you.
When I am alone at night I play this instrument especially for them. Life is there to enjoy. But to do so you need to be healthy. Therefore I advise people to take good care of their body and their mind and to forget about self-interest. If you share what you've got, you'll improve your own life and that of others. Then you will truly enjoy life.
Yes, I like to tell people what is important in life. It is a family tradition. If I did not live according to tradition, I would miss the life that was meant for me."
Dembo Jobarteh died on March 15, 2008 in Serekunda.
Discography:
Dembo (2000)
Life (2001)
Enjoy (2002)
Listen All (2003)
Gambia Banko (2005)
Roots (2007)