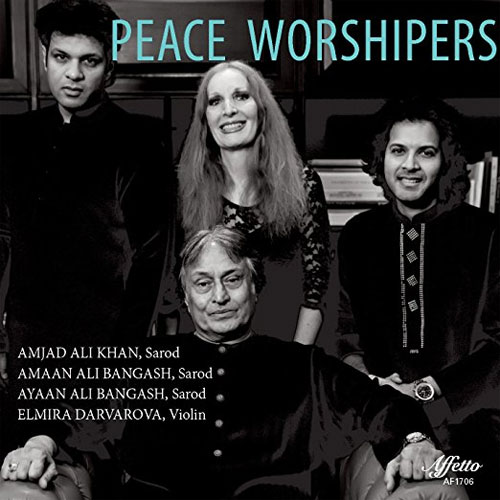 Amjad Ali Khan, Amaan Ali Bangash, Ayaan Ali Bangash and Elmira Darvarova – Peace Worshipers (Affetto Records AF1706, 2017)
Two of the world's great musical traditions, Indian classical and western classical music come together in Peace Worshipers. The album features a family trio of sarod players led by one of the great masters of our time, Amjad Ali Khan and his equally talented sons, Amaan Ali Bangash and Ayaan Ali Bangash. The three artists representing the Indian classical music tradition collaborate with superb American violinist Elmira Darvarova.
Interestingly, the three sarod players appear on separate tracks. That is, each track features only one sarod player so there are no sarod trio performances.
Most of the material is composed by Amjad Ali Khan, based on Indian ragas. Elmira Darvarova contributes one solo violin piece based on a Bulgarian folk song.
The quartet is joined by tabla maestro Anubrata Chatterjee.
The CD booklet contains reflections on the recording along with biographies of the musicians, photos and credits.
Peace Worshipers features masterfully-crafted virtuoso performances that showcase the beauty of Indian and western classical traditions as well as folk traditions.
Buy Peace Worshipers