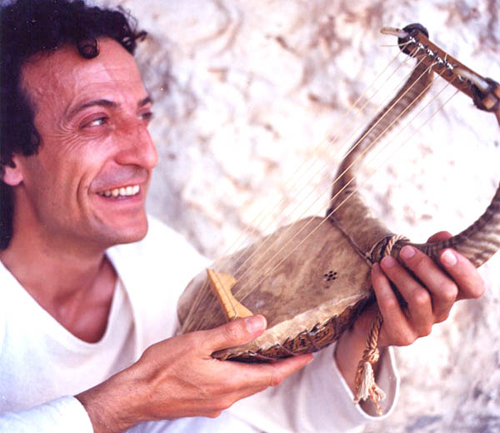 Luis Paniagua García-Calderón was born in Madrid March 9, 1957. He is a composer and performer who has been trained in both western and eastern music, especially in the north of India.
As a composer, what interests him is creating contemporary and universal music inspired by elements of both cultures. This search for expression has led him to compose with eastern instruments such as the Indian sitar or the Chinese pipa, combining them with Western instruments and creating an apparently exotic sound world, but which, in reality, transcends any specific tradition to become a personal expression and universal.
Luis Paniagua belongs to a family in which musicians proliferate. At the age of ten he began to play different stringed instruments and percussion. His recording career began very early in the Madrid group of ancient music (medieval and Renaissance) Atrium Musicae, directed by his brother Gregorio. He appeared in the first albums of this group, published in 1968 in the Collection of Ancient Spanish Music of Hispavox.
At the age of fifteen he debuted at the Metropolitan Museum of Art in New York. With Atrium Musicae he remained from 1972 to 1982, touring concerts in the United States, Canada, France, Spain, Belgium, Germany, Austria, Finland, Poland and the Soviet Union. His albums with Atrium Musicae weer relased in Spain (Hispavox), France (Harmonia Mundi) and Sweden (BIS), as well as in other American and Japanese labels.
From 1981 on, everything began to change with the creation of another group, Babia, where at last he was able to capture some of the ideas he had already glimpsed by including instruments such as sitar in his interpretations of old European music. The group included his brther Eduardo Paniagua, Luis Delgado and Jesús Creu. They recorded "Oriente – Occidente" (Guimbarda GS – 11152, 1982), a milestone of Spanish fusion music.
Since then he has had an exceptional career as a soloist that includes the composition of music for numerous plays and ballet, live performances and recordings.
The album De Mágico Acuerdo featured the string section of the Symphonic Orchestra of RTVE.
Since 1999 he performs primarily with the lyre and vocals.
His album Nanas de Sol won the National Award for the Best Album of the year 2002, given by the Academy of Arts and Science of Music of Spain.
Luis Paniagua created the term 'New Ancestral Music,' a space where the emotions, feelings, inner listening and silence can be actively felt. This music is based on the research of lost aesthetics.
Discography:
De Magico Acuerdo (Nuevos Medios, 1986)
Neptuno (Grabaciones Accidentales, 1987)
Planeo (La Fabrica Magnetica, 1991)
Árbol De Cenizas (Ashes Tree) (NO-CD Rekords, 1992)
La Bolsa O La Vida (Hyades Arts, 1992)
Muy Fragil (Hyades Arts, 1993)
Soltando Amarras (NO-CD Rekords, 1997)
Amaneció De Golpe (Pneuma, 1998)
Nanas De Sol (Pneuma, 1999)
Bienvenida (Silentium Records, 2001)
Rabindranath Tagore. Cuánto Tiempo Dura Mi Viaje (Pneuma, 2007)