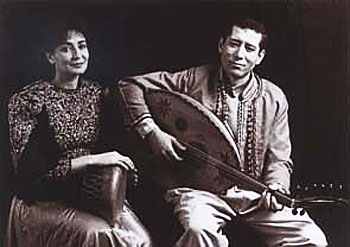 For Habib and Hassina Guerroumi, Arab Andalusian music is more than a cultural heritage. Their musical approach to this art is pure and modest. It is the inner feeling, that with a touch of a doctor (Habib's profession) revives the spiritual link to Ziriab's legacy.
Habib Guerroumi studied music in Algeria with Ahmed Seri, one of the most important masters of Arab Andalusian music. Ahmed Seri was a member of the Moussilia, a music association of the city of Algiers. The young Guerroumi became Seri's student for almost 20 years. With time, Habib inherited the whole repertoire of Ahmed Seri, his master.
Hassina Guerroumi was born in a musical family and in a very early age she learned the inner secrets of the Andalusian rhythms. Like her husband Habib, Hassina is willing to keep the tradition alive and both are working together to what seems to develop into their life work.
The harmony and the mutual understanding between the two musicians is one of the ingredients for their high artistic and quality level. Every word, sentence or note has a deep emotional value. The balance between the darbuka and the ud is natural and Habib's modest singing is meditative. The Nuba, performed by Habib and Hassina, are true emotional, physical and musical experience.
Discography
Nouba Raml (ZuTa Music 1005)
Nouba Al'Dhil (ZuTa Music 1006, 2000)